« Obituaries | Lucy A. Moore Chabot
Lucy A. Moore Chabot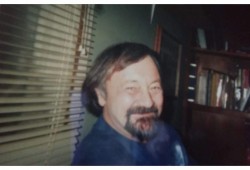 Date of Death: January 18, 2012
Date of Birth: August 22, 1931
Biography:
Lucy A. Moore Chabot, 80, of Lewiston, died Wednesday, January 18, 2012 at Hospice House. Born in Lisbon, ME, August 22, 1931, she was the daughter of Marguerite "Lassonde" Moore and Ernest Moore. She attended Lisbon schools and became a secretary for Lown Shoe. She met and married Julien H. Chabot on August 18, 1956 who passed away tragically January 18, 1979. She was a homemaker for many years while raising their five children. For many years, she delivered The Lewiston Journal. She volunteered as a CCD instructor and a cafeteria server for Holy Cross Church. Operated a day care for several years and was a Literacy of America Volunteer. She also worked at Hannaford in the deli.
She was a dedicated patron of Heartland Restaurant. She loved the Patriots, enjoyed reading and made the best chocolate chip and sugar cookies EVAH!
She was predeceased by her husband Julien, both parents, her brother Philip, who died in Korea, and her sister Celia, who was a Sister with the Presentation of Mary. Survivors include a sister, Monica and husband Howard Shepardson of Lisbon, three sons, Phil and wife Gisele of Lewiston, Gene and wife Jackie of Florida, Michael of Lewiston, two daughters, Marguerite and husband Mac McKeown of Lewiston, Dorothy of Lewiston and ten loving grandchildren.
In lieu of flowers, please make a donation to Androscoggin Hospice House of Auburn, ME.
The family would like to sincerely thank the entire Hospice House staff for their compassion and care.
Funeral Services will be held Saturday, January 21, 2012 at 1:00pm at Holy Cross Church of Prince of Peace Parish.