« Obituaries | Elizabeth Chabe
Elizabeth Chabe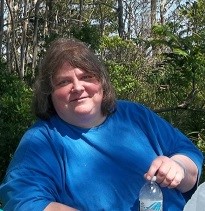 Date of Death: April 29, 2018
Date of Birth: April 4, 1962
Biography:
Elizabeth Ann Chabe, 56 of Fayette and New Gloucester, passed away unexpectedly April 29th 2018 surrounded by Family.
She was born on April 4th 1962 to Dalton Colbath and Norma Colbath Hawkes. Beth loved her son, mother and late husband more than anything. She was a very loving outgoing person and she made many loving lasting relationships during her careers in childcare and at Mr. Market/Hannaford in Winthrop. She was a very talented artist and craftsperson and had a great love of horses, owning and training many throughout her life.
Beth was predeceased by her husband/soulmate David Chabe, and father Dalton Colbath. Beth is survived by son Jeremy Chabe, mother Norma Hawkes, father Charles Hawkes, sister Rebecca Hixon, brother Donald Colbath and many other family members and loved ones.
Our family will be having a celebration of her life to be announced at a later time
In lieu of a bouquet, please plant flowers in her memory.