« Obituaries | Doris (Tilton) Cersosimo
Doris (Tilton) Cersosimo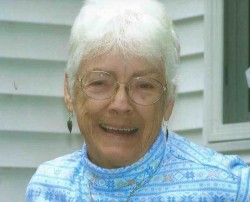 Date of Death: September 18, 2012
Date of Birth: August 19, 1928
Biography:
Farmington- Doris (Tilton) Cersosimo, 84, wife of the late Joseph M. Cersosimo, passed on to be with the Lord on Sept. 18, 2012.
Doris was born on Aug. 19, 1928 to Percy and Mable (Jewell) Tilton of Wilton.
In her early adult life she moved to Connecticut, returning to Maine years later to be closer to her family.
Doris had a very kind heart and would be willing to help those that she could, she was also a volunteer. She attended the Dryden Baptist Church. She enjoyed doing a variety of crafts; knitting sweaters, most of all her cross stitch and her tag sales.
Doris is survived by one son Roger, one daughter Doris (Dolly), her grandchildren and great grandchildren, siblings Raymond Tilton and wife Lenora, Shirley A. Thompson and husband Emery, brother-in-law Maynard Towle, sister-in-law Clara Tilton, and many nieces and nephews.
Doris was predeceased by her children Bobby, Dale, and Gloria, parents Percy and Mable, siblings Wesley, twin sister Dorothy Merrow, Percy Jr., Hazel Towle, and brother-in-law, Vern Merrow. Also a very dear friend Ruby Rolfe.
Ecclesiasties 3