« Obituaries | Linda Arline Case
Linda Arline Case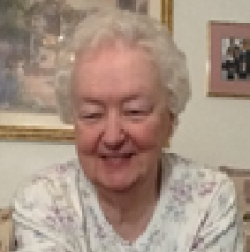 Date of Death: June 24, 2019
Date of Birth: February 9, 1943
Biography:
WINDHAM, Linda Arline Case, 75, of Windham, entered the presence of her Lord and Savior, Jesus Christ peacefully on June 24, 2019. The daughter of Arline Terry, she was born in Bath on February 9, 1943. Linda lived in Bath and Scarborough. She attended Scarborough High School. She enjoyed her summers at Camp Harpwill on Pettingill Pond in Windham. When Linda was fifteen, she moved to California. Graduated from La Puente High School. Met the love of her life, Harold, while attending Calvary Baptist Church. Later they married and raised three children. While in California Linda worked for Tupperware and excelled as a dealer. Linda missed the beauty of Maine and spoke of it often to Harold. They moved back in May of 1973. In 1974, they built their dream home at 57 Cedar Drive in Standish. There they enjoyed living in the woods, bird watching, feeding the deer, picking high bush blueberries, appreciating their neighbors and watching their family grow. Linda continued her successful career. She became a manager and was awarded a trip to Hawaii and received national honors for her sales. As her business grew, she fostered many friendships that she enjoyed throughout her life. She named her unit of Tupperware Ladies "The Planters", this was indicative of her love for flowers and gardening. Linda's love for planting was beautifully displayed inside and outside her home. She often shared her plants with others. Linda and Harold served together in ministry at Grace Baptist Church for 38 years. She loved taking care of the babies in the nursery. Linda loved singing in the choir and singing with her family around the piano at home. Linda was a loving daughter, a faithful sister, a devoted wife and loving mother, but she truly was suited for her role as "Grammie" more than all.  She loved to spend time with her grandchildren and great grandchildren especially at the camp. Time with her family brought her great joy. Linda's smile was a treasured comfort for all who knew her.  If there is one relationship that Linda cherished most, besides her love for God, it was her love for Harold. Together for 55 years they exhibited what it means for two to become one. Their cherished commitment of marriage was a testimony to all. Together they mentored many young people for Christ. Linda and Harold were examples of what it means to live a life together, through joys and sorrows, all the while trusting God and loving each other more and more every day. What a legacy of love, of faith and of family!
Linda was preceded in death by her beloved husband Harold, her mother Arline Terry, grandparents Ralph & Hattie Philbrick, her cousins Bob Philbrick & Betty Donahue, and uncles. She is survived by her twin brothers Rodney, Ronnie & Karen, sister in law Lorraine & Jim, brother in law Wayne & Linda, brother in law Gary & Dana, son Buddy & Stacey, Linda Marie, son Ken & Lori, daughter Terry Lynn & Randy, grandson Chandler & Brittany, granddaughter Taylor & Jason, granddaughter Sheree, granddaughter Kaylee & Zachary, grandson Austin, grandson Garrett, granddaughter Rylee, granddaughter Caitlynn & Wes, grandson Connor, grandson Hunter, great grandson Jackson, great grandson Thatcher, and three more on the way.
Public Visitation will be Saturday, August 3rd from 1:00-3:30pm                                                                                                       at Faith Baptist Church, 43 Washington St., North Auburn, ME  04210
Condolences may be expressed at www.funeralalternatives.net.
In lieu of flowers, donations may be made in Linda's memory to:                                                                                                   Faith Baptist Church, 43 Washington St. North Auburn, ME 04210.
The family would like to express our appreciation for the loving care Linda received at Ledgewood Manor in Windham. Linda battled Dementia for 6 years and never lost her love for Christ, her husband, her family and friends. Linda's loving smile will continue throughout eternity. Something wonderful to look forward to seeing again.