« Obituaries | Harold Floyd Case
Harold Floyd Case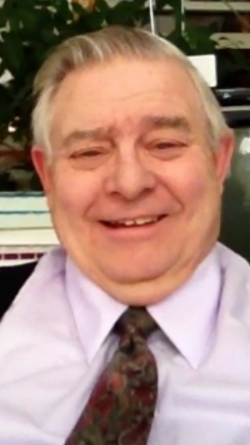 Date of Death: November 10, 2018
Date of Birth: July 20, 1942
Biography:
Harold Floyd Case (affectionately called: "Dad", "Daddy", "Grampie, "Uncle Harold" and "Mr. Case" by family, church family, neighbors and friends) went to be with his Lord and Savior, Jesus Christ on November 10, 2018. He was born to Harold and Bulla Case on July 20, 1942 in Long Beach, California. Harold trusted Jesus as his Savior when he was young and he learned early to love God, family and music which would set the course of his life. His Grandma Case taught him to play the piano when he was 8 years old which turned into a lifelong love of his.
It was his love for Christ and music that enabled him to serve for 38 years at Grace Baptist Church in Portland, Maine. During his time there, he served as the Minister of Music and taught Bible and music classes at the Christian school.  He taught many to play the piano and others to follow in his steps as a faithful servant of Christ in music ministry. Boston Baptist College recognized the impact of Harold's ministry by dedicating a permanent lamp on their Walk of Light in his honor. It was for his faithful service to his church and his dedication to the music ministry. Through his choir clinic ministry, he helped start choirs in churches all over New England and Canada.  He was known for his gentle kindness, love and encouragement. He purposed to serve God and others. He was used by God to lead many souls to Christ and disciple them in their faith.
Harold's greatest legacy and treasure was his family. He instilled a love for God and music into his children, grandchildren and Lord willing his great grandchildren. Harold loved his wife Linda and modeled the unity and oneness the Bible speaks of in every way.  Harold and Linda moved to Maine because Linda told him how beautiful it was to live in four seasons. He was so grateful and enjoyed every season he got to share with her. He loved the outdoors and appreciated living by the woods, pushing his grandkids on the swing, cutting firewood and snowblowing, watching the birds (especially cardinals) and deer out the sunroom windows in their backyard. Grampie loved to laugh, sing, and spend time eating with family and friends at Camp Harpwill on Pettingill Pond in Windham where they spent time each summer.  
He was preceded in death by his parents, Harold & Bulla Case and many aunt and uncles. He is survived by his loving, faithful wife of 55 years, Linda; His siblings Lorraine & Jim,  Wayne & Linda, Gary & Dana; his brothers Rodney, Ronnie & Karen; his children Buddy, Linda Marie, Ken & Lori, Terry Lynn & Randy; his grandchildren Chandler & Brittany, Taylor & Jason, Sheree, Kaylee & Zachary, Austin, Garrett, Rylee, Caitlynn, Connor, Hunter and his great grandsons Jackson and Thatcher.
Public Visitation will be Monday, November 19, 2018, from 4-8pm  Funeral Alternatives 25 Tampa St. Lewiston, ME 04240. In lieu of flowers, donations may be made in Harold's memory to:                                              Faith Baptist Church 43 Washington St. North Auburn, ME 04210.
The family would like to express our appreciation for the loving care Harold and Linda have received at The Woodlands Memory Care in Lewiston. Harold battled Alzheimer's for 10 years and never lost his witness for Christ or his ability to love and care for people.