« Obituaries | Roland O. Carville
Roland O. Carville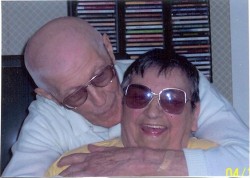 Date of Death: December 14, 2010
Date of Birth: February 9, 1927
Biography:
Roland O. Carville, 83, of 424 Ridge Rd., Lisbon passed away unexpectedly, but peacefully, Tues., Dec. 14th 2010, at CMMC.
 Roland was born on Feb. 9th, 1927 the eldest son of James W. and Azalia Hogkkin Carville in Avon, CT. His early childhood years were spent in Avon. He recently took a trip back to his birthplace with members of his family where he was able to share many childhood memories.
 Roland's parents were both from Maine, and the family moved several times between Maine and Connecticut, depending on where there was work.
 He received much of his elementary education in one room schools where his mother was a teacher. During his high school years he developed a love of history, especially civil war history.  As a teenager, he enlisted in the US Army, proudly serving his country. He was a WWII veteran. No matter what the weather, he proudly displayed the flag.
 On Dec. 30th, 1950, he married Leona M. Goss. They returned to Lisbon where they raised their family.
Roland had many jobs during his lifetime, retiring from the Androscoggin Bank in the 80s. His greatest job came after his retirement-lovingly caring for Leona during her many years of declining health. Leona passed away on Sept. 21st, 2010.
Roland's interests included Nascar, the Civil War and he also enjoyed walking Maverick, and reading.
 Roland is survived by his brother Larry of FL, his children Maureen, Donna, Trudy, Suanne, Becky and Jim, as well as numerous grandchildren and great grandchildren, with three more due in 2011.
 He was predeceased by his wife, Leona  Goss-Carville,  a  son Kenneth, a grandson and a granddaughter, a great grandson, and his faithful  feline companion, Tina, who passed away Oct. 22nd, 2010
 A joint graveside committal service  Roland and Leona will be held on Saturday December 18th, at 11 am at Pleasant Hill Cemetery in Sabattus.
 In Lieu of flowers, donations may be made to the American Cance Society Relay for Life Team, Jody's Weekend Warriors 1 Bowdoin Mill Island, Ste 300 Topsham, ME 04086