« Obituaries | John "Jack" Carrington
John "Jack" Carrington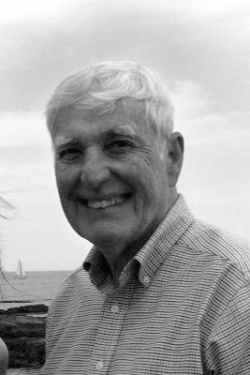 Date of Death: September 27, 2014
Date of Birth: August 4, 1940
Biography:
JOHN "JACK" CARRINGTON -- John "Jack" Carrington, 74, of Brunswick, ME passed away on Saturday, September 27, 2014 at Maine Medical Center in Portland, ME. Jack was born August 4, 1940, in Waterbury, CT, son of the late John Carrington and Hazel Cook Carrington.
Jack graduated from Sacred Heart High School in Waterbury, CT in 1959 and attended Concord College in Athens, WV. He served in the Army National Guard while pursuing a career in Human Resources and Labor Relations. He worked at Scovill Manufacturing Company, Century Brass, Hubbell, and Cooper Industries. Jack lived and worked in Connecticut until 1991, when he then accepted a transfer to Brunswick, Maine to work as the Human Resource Manager for Cooper Industries's Arrow Hart division. During retirement, Jack spent eight years working at L.L.Bean's flagship store in Freeport, ME, where he enjoyed meeting and talking with visitors from all corners of the world.

Jack was an all-star basketball player throughout high school and participated in local leagues as a young adult.  He enjoyed other sports throughout his life, especially golf and baseball. He was a proud fan of the Boston Red Sox. Jack also enjoyed spending time with his family, traveling, fishing, grilling, going to the beach, and visiting Danny's hot dog stand in Brunswick. In recent years, he loved connecting with friends and family through Facebook. Jack will especially be remembered for his quick wit and sense of humor.
Jack was a loving husband, brother, father of five children, and grandfather of seven children.   He is survived by his wife, Christine Carrington of Brunswick, ME; sister Janice Sullivan of North Providence, RI; sister Jean Suddaby of Washington, CT; daughter Erin Carrington and her husband Warren Sparks of Newport, OR (Ianna, Rosemary, Christian, Eric); son Shawn Carrington of Long Beach, CA (Jackson); son Ryan Carrington and his wife Kim Carrington of Woodbury, CT (Alex, Chase); daughter Emily Carrington of Portland, ME; and son Andrew Carrington of Brunswick, ME.
A memorial service will be held at Our Lady of Perpetual Help Church in Washington, CT on Saturday, November 1 at 11:00 am. Interment will follow at East Morris Cemetery in Morris, CT.
In lieu of flowers, donations may be made to www.aoutreach.org or www.coastalhumanesociety.org.
You are invited to post on the family's online guestbook: http://tinyurl.com/jackcarrington
Cremation arrangements are under the care and guidance of Funeral Alternatives, 8 Pleasant Street, Brunswick.