« Obituaries | Linda Anne Caron
Linda Anne Caron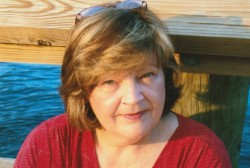 Date of Death: April 26, 2015
Date of Birth: September 12, 1949
Biography:
Linda Anne Caron (Marr), 65, of Litchfield, passed away on April 26th, 2015 at Hospice House, after a long battle with coronary disease.
Mom was born in Gray on September 12, 1949 the daughter of Lendon W. Marr and Amy Florence Marr (Hamilton). She graduated from Gardiner Area High School in the class of 1967. She spent nearly 40 years waitressing in numerous restaurants within the Kennebec and Lincoln County areas. Including her favorite, Howard Johnson's, or as us kids remembered "Ho-Jo's" on 1-95 in Litchfield from 1975 – 1985 when they closed.
Mom was predeceased by her parents, Amy in 1971 and Lendon in 1986. She was the last member of her immediate family. Her five siblings, Roberta Coston, Lenny Marr, Beatrice Ward, Nancy Caswell, and Edward Marr all predeceased her. She is survived by her 3 son's, Rick Caron and his wife Kelly of Chelsea, Michael Caron o f Litchfield, Gary Caron of Whitefield; grandchildren Amanda and Cody Caron of Chelsea, Morgan Foss (Caron) and Nicolas Caron of Whitefield; great-grandchildren Owen Caron, Jacoby Moody of Chelsea, and Levi Foss of Whitefield; several nieces and nephews; and her beloved German Shepard "Buddy".
Our family wishes to express our thanks and gratitude to the doctors and staff at Central Maine Medical Center and Androscoggin Home Care & Hospice for their excellent care and treatment. In lieu of flowers, donations may be made to the Androscoggin Home Care & Hospice, 15 Strawberry Ave., Lewiston, ME 04240.
At mom's request there will be no funeral services, only graveside services in West Gardiner at a later time. Burial will be at Fairbanks on the Spear Corners Road in West Gardiner.