« Obituaries | Marion E.A. Caron
Marion E.A. Caron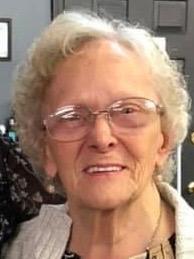 Date of Death: July 19, 2022
Date of Birth: June 29, 1936
Biography:

Marion E, A, Caron, 86 of Lewiston, passed away peacefully at her home surrounded by her family and friends on July 19th, 2022.
She was born in Vassalboro on June 29th, 1936

The daughter of Royce E, Howes, Sr., and Helen F. Jacquith
Marion married Arthur J Caron Sr. On November 5th, 1960.
Marion received her high school equivalent diploma and worked and retired from Geiger Brothers 17 years ago.
Marion enjoyed spending time with family and friends. This brought so much joy to her life. She was always full of life and always had a smile on her face. Everyone she met just loved her! She was simply just a happy person with always something positive to say. She would give the shirt off her back for anyone in need.
Marion loved to go shopping, garage sales, enjoyed camping and family barbecues. She loved country music and especially Hank Williams.

Marion was predeceased by her husband Arthur, Sr. her Son Robert Sr., and sister Della.
Marion is survived by four sons Roger Dyer, Arthur Caron Jr. Geoffrey Caron and wife Tina and Brian Caron
Four brothers Royce Howes Jr., Robert Howes, Frank Howes Sr., and William Howes.
Five Grandchildren Craig Rousseau, Brianna Caron, Kendra Caron, Devon Dyer, and Robert Jr. Dyer.
Two Great grandchildren Allyson Rousseau and Kendall Dyer.

We would like to thank Androscoggin Home Healthcare and Hospice for their compassionate care and service that was provided.
There will be a celebration of life provided at a later date.