« Obituaries | Robert Adrien Caron
Robert Adrien Caron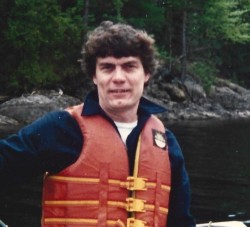 Date of Death: April 3, 2022
Date of Birth: August 2, 1951
Biography:
Robert Adrien Caron, 69, of Lewiston, Passed away unexpectedly in his home April 3, 2022. 
He was born the son of Josehp and georgette Caron. Of Lewiston on, August 2, 1951.
Robert liked to be called Bob. Bob served in the US Navy in his younger days and later was very hard worker who worked as a car body mechanic, .
Bob married Dorina Caron on June 27, 1981, and was a loving and devoted Husband and father to her children Roland, Rose and Corina.
Robert had a couple Passions in life one of which was music, Bob loved to Play guitar and Violin and harmonica, He played mostly folk and bluegrass, when younger he and Jerry were even in a bluegrass band. They went to and played in many bluegrass music festivals.
Fishing was another one of Bob's passions. It was something the whole family really enjoyed. There are so many pictures of him Dorina Corina and family holding up big fish, Roland and Bob would go fishing down to the river and every time he and grandkids visited, they would go through tackle and talk about fishing. He also loved going to the local races Oxford Plains speed way, and Beachridge. Bob loved the outdoors if he was not hunting or fishing or going to the races, Bob and Dorina were out on road trips looking for new things to do.
He is survived by his cousin Ronnie and other various cousins, his stepchildren, Roland and wife Linda Verrill of Otisfield, Rose and husband David Jordan of Jay, Corina and husband Michael Wells of Lewiston, Grandchildren Kristian Lee of Auburn, Michael Lee of Mechanic Falls, Tonia Verrill and boyfriend James Blockburger, Douglas Verrill, Angel Jordan and boyfriend Steve Hewett of Fayette, Shelia Jordan of Fayette, and Madelene Wells and boyfriend Robert Pomerleau of Lewiston. Also surviving are great-grandchildren Gage Bowden and Patience Bowden of Oxford, Savanah Wands of Otisfield, Elijah Coates of Auburn, Kennedy Benson-Lee and Graham and Gabriella Dione of Waterville. Ari, Victoria and Jayden Blockburger of Cornish. Besides her parents, He was predeceased by his sister Cecile and his wife beloved wife Dorina. Services will be at Grace Fellowship Church on April 30th at 11:00 am. Followed by graveside at Pine grove cemetery in Brownfield Maine