« Obituaries | Sylvia Caron
Sylvia Caron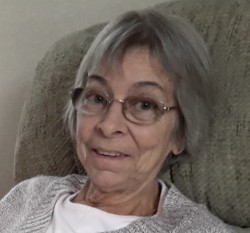 Date of Death: February 25, 2018
Date of Birth: February 25, 2018
Biography:
Sylvia Caron of Sabattus, Maine passed away on February 25th, 2018 in Auburn. She was born in East Stoneham, Maine to parents Floyd and Lurana McAllister.
Sylvia enjoyed her Silver Sneakers classes at the Health Club in Lewiston, and was also very active with the Greater Androscoggin Humane Society, making donations and volunteering. She was a member of Grace Lutheran Church in Auburn.
She worked for many years at Pioneer Plastic in Auburn
Sylvia is survived by her son, Mark Caron and wife Dee of W. Virginia; daughter Lori Rioux and husband Jack of Winthrop; sister, Julia and husband Burleigh Witham; brothers Dennis McAllister and wife Sharon, and Terry McAllister and his wife Susanne; grandchildren Devin, Jacob and Jonathan; brother-in-law Roger Caron and wife Joline; and many nieces, nephews and cousins. She was predeceased by her husband, Ronald; her parents; and two brothers, Jack and Leroy McAllister.
NOTICE
CARON Sylvia of Sabattus, died on February 25th, 2018 in Auburn. Family and friends are welcome to visit on Thursday, March 1st, 2018 from 3-5pm, and 7-9pm at Funeral Alternatives, 25 Tampa St. Lewiston. A funeral service will be held at 11am on Friday, March 2nd, 2018 at the Grace Lutheran Church 757 Summer St, Auburn, ME. In lieu of flowers, donations may be made in her memory the Greater Androscoggin Humane Society, 55 Strawberry Ave. Lewiston, Maine 04240.