« Obituaries | Franklin W. Carney
Franklin W. Carney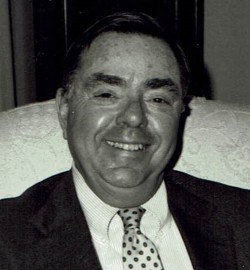 Date of Death: November 16, 2015
Date of Birth: February 27, 1924
Biography:
BRUNSWICK - Franklin William Carney, 91, died November 16, 2015 at his winter home in Brunswick, Maine. He was born in Malden, Massachusetts on February 27, 1924, the eldest of three sons of Richard and Gretchen (Horstmeyer) Carney.

He grew up in Melrose, Massachusetts and graduated from Melrose High School in 1941 and Kimball Union Academy in 1942. Frank was thrilled to be accepted at Cornell University. He joined Alpha Sigma Phi fraternity as well as the local musicians' union where he played saxophone in various dance bands at campus parties. In 1943 he joined the V12 Naval College Training Program. He attended Midshipmens School at Northwestern University, was commissioned an Ensign, and assigned to Naval Communications School at Harvard. He was then assigned to duty at the 1st Naval District Boston. After the war he resumed his education at Cornell, graduating in 1947. Frank had a lifelong close affiliation with Cornell and was named a Life Member of the Cornell Council in recognition of his leadership in service to the University.

Following Cornell Frank returned to Boston where he started his career in the insurance business. In 1948 he joined the insurance brokerage firm of Storer, Damon & Lund where he would become a Partner and spend his entire career, as well as meet his bride and lifelong love, Carolyn (Archibald). He and Carolyn were married in 1955. They have two children, Chris born in 1956 and Pam in 1959. He also served as a Director of Boston Federal Savings Bank from 1962-1995. During his career, Frank and Carolyn lived in Melrose and Topsfield, Massachusetts sharing their homes with Golden Retrievers Ginger, followed by Sunshine.

Frank had a lifelong love of Maine. He fondly remembered spending time as a boy with his Grandparents at Echo Farm in Sheepscot. In 1955 he and Carolyn bought their first Maine cottage on Brighams Cove in Phippsburg which was followed by homes in South Harpswell and Orrs Island, where he became a member of All Saints Chapel and the OBYC. Maine summers included countless happy hours on Casco Bay in a series of boats, both sail and power.

Frank also loved family adventures and travel. There were many family ski trips to the mountains of Maine and New Hampshire. He and Carolyn vacationed in the Virgin Islands, traveled extensively in Europe and in the later years enjoyed explorations by cruise ship.

Following retirement he and Carolyn wintered for 18 years at Worthington Country Club in Bonita Springs, Florida where he avidly played golf. Frank experienced the thrill of a "hole-in-one" on two occasions, first at Worthington and the next at Mere Creek in Brunswick, Maine.

He is survived by his wife of 60 years, Carolyn, of Orrs Island and Brunswick, Maine; son Chris and his wife Karen of Falmouth, Maine; daughter Pam Bates and her husband Rowland of Hingham, Massachusetts; grandchildren Liz and Annie Carney and Chris, Trevor, and Graham Bates; his brother Otis and his wife Barbara of Marshfield, Massachusetts; and his cousin Mary Ann Vinton of Phippsburg, Maine.

A Memorial Service and celebration of his life will be held on Orrs Island in the spring of 2016.

In lieu of flowers his family asks that donations be made in his name to the Abbot Fletcher Sailing School, PO Box 94, Orrs Island, ME 04066 or to All Saints Chapel, PO Box 114, Orrs Island, ME 04066.