« Obituaries | James E. Carlisle Jr.
James E. Carlisle Jr.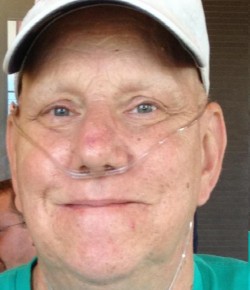 Date of Death: October 1, 2012
Date of Birth: February 2, 1956
Biography:
BRUNSWICK - James E. Carlisle Jr., 56 of Brunswick, died on Monday, October 1, 2012 at Parkview Adventist Medical Center, Brunswick with his loving family at his side, after a long battle with cancer.
He was born in Philadelphia, PA on February 2, 1956, He was the Son of James E. Carlisle Sr. and Elsie (Hotz).
He married the former Denise E Ramsay (Koenig)
He enjoyed going out to eat, reading books, going to the movies, gardening, traveling, but most of all spending time with his family and friends.
He served in the US Army, and then worked for the United States Postal Service.
He is predeceased by his daughter, Emily Anne, his granddaughter Kaydance R Koenig, his brother Lewis Hahn, and his sister Carol Hughs.
James is survived by his wife Denise Ramsay Carlisle, One daughter Josalyn Carlisle of Alaska, two stepsons, Nicholas Koenig of Lewiston, and Jeremy Koenig of Brunswick. Two granddaughters Brooklynn Hinkley, and Rebekah Koenig. His Sister Elsie Blackmon and husband Jonathan of Pottstown, PA, his brother David Carlisle and his lifetime partner Diane of Wincoyte,PA, his brother Rudy Hahn and wife Gertrude of North Wales, PA,
Family and friends are invited to a memorial service on Saturday, October 6,2012 at 11:00 AM at the Lisbon United Methodist Church at 14 School Street, Lisbon Falls, ME. Burial will follow at the Lunt Cemetery in Brunswick with military honors.