« Obituaries | David G. Campbell
David G. Campbell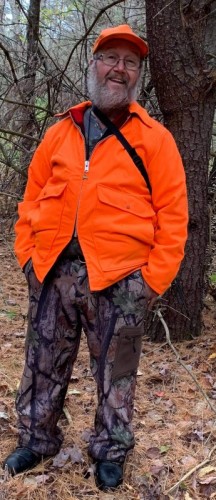 Date of Death: January 30, 2021
Date of Birth: April 12, 1957
Biography:
"This is bullshit, I'm going hunting today and fishing tomorrow."
On the morning of January 30th, 2021, after a long and difficult battle with cancer, David G. Campbell passed away in his home surrounded by loved ones.
He was born April 12th, 1957 in Onslow County, North Carolina to his mother Mona J. Campbell and father Gene A. Campbell. He was a graduate of Brunswick High School. In 1985 he married the love of his life, Bonita A. Dall and they resided in Bowdoin.
 David worked for the Topsham Public Works for 33 years, where he made many friends, was a member of the IAM Union and wasn't afraid of voicing his opinion, he had the gift of gab. One of his favorite things to do was take his grandchildren to big truck day. David loved hunting, fishing, watching terrible Sci-Fi movies and corny Hallmark movies during Christmas and watching all sports; his favorite teams being the Miami Dolphins, Boston Red Sox, Celtics and Bruins. He passed all of these traits down to his grandchildren. He had a positive impact on many people's lives and was well respected.
 David was predeceased by his parents and brother, Wayne "Larry" Campbell.
 He is survived by his wife, Bonita, his children and their spouses, Chad and Heather Dall of Bowdoin, Melissa MacGown and Travis King of Ellsworth, Pebbles and Adam Marquis of Richmond, Karl and Lexi Perry of Winthrop and Ashley Campbell and Matthew Sirois of Phippsburg. His grandchildren, Kaylyn, Chad, Cody, Harry, TJ, David, Riley, Eli, Anthony, Lincoln, Abigail, Patrick, Joseph, Miss Amelia, and 6 great grandchildren. His siblings and their spouses Judy Buglar of Topsham, Ellen Campbell of Lisbon Falls, Jane and Ralph Taylor of Bowdoin and Mike and Bonnie Campbell of Brunswick, along with many nieces and nephews. He is also survived by his fur grandbabies Ginger and Tink, Bo, Tucker, Nala, Oakley, Loki, Remy, Oliver, Boabz and Daisy.
 Per his request, there will be no service.