« Obituaries | James "Soup" Michael Campbell
James "Soup" Michael Campbell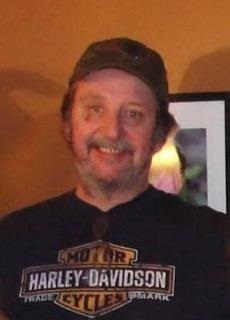 Date of Death: April 23, 2019
Date of Birth: July 11, 1959
Biography:
TOPSHAM - James Michael Campbell, 59, of Topsham, Maine died April 23, 2019 at Mid Coast Hospital in Brunswick, after a long courageous battle with cancer. "Soup" as he was known by family and friends passed away with his loving, supportive wife, "Buffie," by his side.
Born on July 11, 1959, Jim was the son of G. Raymond Campbell and Georgette T. (Caron). He was a graduate of St John's Catholic School in Brunswick, as well as of Brunswick High School, class of '77.
Soup retired in March 2018 after a 32-year career at LL Bean. He enjoyed riding his Harley, and was an avid Boston Red Sox and New England Patriots fan. He was a member of the Brunswick Elks Club and the Slovak Catholic Association.
James' easy-going, kind personality gained him a multitude of friends. He will be fondly remembered by his family and friends.
Soup was predeceased by his parents, older sister, Nancy E. Campbell, and older brother, Robert R. Campbell.
He is survived by his wife, Linda "Buffie" Foster-Campbell; sister, Patricia A. Pierce of Clarksville, TN; brothers, Dennis C. Campbell and his dear friend Laurice Baddar of Richmond; Thomas M. Campbell and his wife Dianne of Richmond; Stephen H. Campbell and his wife Valerie of Brunswick; and many nieces, nephews, and cousins, as he was a descendant of two very large Brunswick families - the Carons and Ouelettes.
His celebration of life will be held at the Brunswick Elks Club on May 11th, 2019 at 2:00 p.m. Donations may be made to the American Cancer society.