« Obituaries | Jean Austin Campbell
Jean Austin Campbell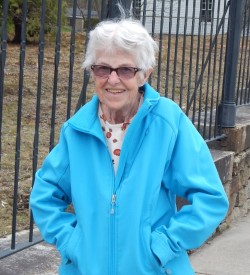 Date of Death: November 5, 2016
Date of Birth: April 21, 1930
Biography:
Wiscasset - Jean Austin Campbell, 86, passed away at the home of her daughter, surrounded by family and friends November 5, 2016.
Jean was born in Greene, Maine, April 21,1930. She was the daughter of Lester Austin Sr and Celestia Austin.
She married Robert Campbell of Lewiston July 28, 1950.  They moved to Wiscasset in 1952.  They raised two children together. Her husband, Robert, predeceased her in 1990.
Jean was a faithful follower of Jesus Christ.  She worked in the area at many jobs, Congress Sportswear, being her longest, and Camp Chewonki being her favorite.
Jean is survived by her son, Ralph Campbell and his wife, Cheryl, of Wiscasset. A daughter, Linda Campbell and her husband Jeremy Gardner, also of Wiscasset.  Four grand children, Heather Deschaine and her husband Richard of Denver, CO, James Campbell, and his wife Brandi, of Windsor, Leah Campbell of Bath, and James Humphrey II of Brunswick. And a great Grand daughter, Cadence Thompson, also of Bath.
She is also survived by 3 sisters, Frances Ouellette of Auburn, Marilyn Jordan of Buckfield and Marlene Smith of Saint Petersburg, Florida.
A graveside service will be held on November 19th at 11 a.m. at Oakgrove cemetary in Bath.