« Obituaries | Joyce Caldwell
Joyce Caldwell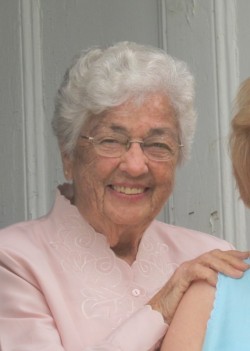 Date of Death: July 9, 2023
Date of Birth: October 18, 1930
Biography:

With heavy hearts we announce the passing of Joyce Lorraine (Elliott) Caldwell at age 92. She passed peacefully at home with family by her side. Joyce was the last survivor of her original Elliott family; predeceased by her parents and 4 brothers and 6 sisters.
She married her childhood sweetheart from Boody Street, Bruce Caldwell in 1950 and lost him in 2020, after nearly 70 years of marriage. They moved to Lowell's Cove on Orr's Island in 1960 with 3 kids in tow. After almost 60 years of happy island living, they returned to Brunswick in 2015.
Family was of utmost importance to Joyce. She also had a much loved career as a banker & commercial loan officer primarily with Maine National Bank. She was always active in her church; her beloved ICC on Bailey Island. She held positions as the organist & choir director for many years as well as contributing solos and duets with other choir members for the services.
She was a champion knitter, starting from an early age, and was a long time member of the ICC group, the Knit Wits. Many generations of folks have benefited from her love of giving away beautiful hand knit items. She also loved to cook, especially cookies and bars of late, and family, friends and the neighbors were all glad recipients!
Joyce is survived by her 3 children; Celeste Caldwell, Susan (Tom) Caldwell, Stuart (Jill) Caldwell. Also 4 grandchildren; Gina Caldwell, Jeremy (Bill) Caldwell, Sterling Black & Indumathi Monson.And 3 great grandchildren; Casi, Sophie and Sam PerowWe will all miss her SO much.
The family wishes to thank Dr Tim Howe for his years of wisdom & care for our beloved mother and the CHANS Hospice Team for their kindness & compassion.
Services will be private as per her request.
In lieu of flowers, memorial donations may be made to the Islands Community Church, P.O. Box 281, Bailey Island ME 04003 to use for the good of community members.