« Obituaries | Louann Coutts Burns
Louann Coutts Burns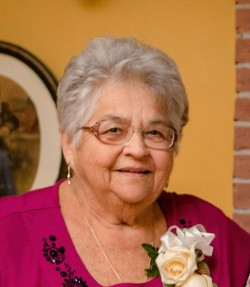 Date of Death: October 18, 2021
Date of Birth: June 27, 1939
Biography:
LEWISTON-Louann Coutts Burns passed peacefully on October 18, 2021, with her family by her side. She was born on June 27, 1939 to James Coutts, Sr and Beryl Butterfield Coutts in Auburn, Maine.  She grew up on Weaver Street and attended Auburn Schools, graduating from ELHS in 1957. While at ELHS, she played the flute and the piccolo in the marching band, something she was immensely proud of. Louann married her sweetheart Robert Arthur Burns in 1958, and they raised 3 children together. 

After raising their children, Louann worked at L-A Tent and Awning Company for many years.  She enjoyed camping at Hemlocks with her family and many members of the extended family, as well as travelling in the RV with her husband. They explored all 50 states and Canada, and brought their children and grandchildren on many adventures all over the country.  Louann got tremendous joy out of being a mother and then a grandmother.  She lovingly raised her children, and helped them raise their own kids, teaching them how to cook, knit and sew, being an after-school taxi cab for the grandkids and their friends, and attending every concert, game, track meet, play, musical and award ceremony that they were in—faithfully videotaping every event. 

Louann  was known to everyone as either Bram, Aunt, or Sister and for her, everyone was treated like family. Her door was always open, and anyone was always welcome to stop by for coffee and a chat. She loved hosting her knitting club with friends, and she looked forward to her weekly TOPS meetings where she met many dear friends. Family and tradition were important to Louann, and she never missed a family event or celebration. 

Louann was predeceased by her parents and stepfather Levi A. Marston; her husband of 59 years, Robert; and her four  brothers James, Carlyle, Matthew and Robert (Bucky) Coutts.  She is survived by her children Robert Jr; Laurian Doucette and husband, Marcel; and Randall (Tiger) Burns and wife, Juanelle; and daughter-in-law Belinda (Libby) Kerr; sisters-in-law Joyce Capen, Sandra Leavitt, Dolly Eastman, Carole Coutts, Evelyn Dulac and Elaine Levesque. She also leaves behind 7 grandchildren and their spouses, and 10 great grandchildren, who loved her dearly; as well as many, many nieces and nephews and close friends. Celebration of life service will be held on Saturday October 30, at 10 am at the United Methodist Church, 439 Park Avenue, Auburn.