« Obituaries | Michael L. Burdick
Michael L. Burdick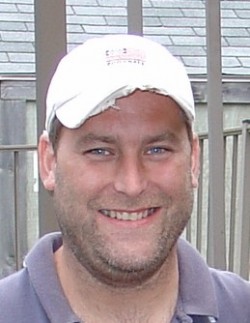 Date of Death: January 15, 2019
Date of Birth: October 17, 1969
Biography:
BATH - Michael Lloyd Burdick, 49, passed away unexpectedly on January 15th at his home in Bath.
Mike was born on October 17, 1969 in Cedar Rapids, Iowa and is the son of Robert J. Burdick and Chari Moulton Burdick.
In 1981, the family moved to Corcoran, Minnesota, and in 1983 moved to Brunswick, Maine.
Mike attended schools in Marion, Iowa; Hanover, Minnesota; and graduated from Brunswick High school.
He learned his trade of installing and refinishing hardwood flooring while working for B&L Hardwood Floors before branching out to operate his own business, MLB Wood Floors in 2005.
On October 13th, 2007 Mike was united in marriage to Lisa Marie Dube, after which they settled in Bath.
Mike was a funny guy, loved to make people laugh and have them make him laugh 'til the tears rolled. He could often be found on a golf course with any of his many friends or watching any sport on tv.
Mike had a big soft heart as well as being a sentimental guy. Many of his friends remarked that Mike loved 'hard'.
Michael is survived by his loving wife, Lisa; their fur-baby, Cooper; his father, Bob Burdick and wife Linda of Lisbon Falls; mother, Chari Burdick of Brunswick; sister, Andrea Burdick, spouse of Cova Willis of Bowdoin; in-laws, Gerry and Sandy Dube of Whitefield; sister-in-law, Jennifer Dube and partner Bobby Adams of Augusta; brother-in-law, Brian Dube of Richmond; and foster brother, Kevin Meyers of Ohio. Nieces and nephews include Melody Harrington, Hunter Adams, Sebastian Dube, and Elena and Brynn Willis. His best buds include Ted, Rob, Tom, Brady, Tim, Ken, Scott, and many others.
He was predeceased by his grandparents, Lloyd and Grace Burdick; Gene and Berniece Moulton; and fur babies Brandon, Blue, and CJ.
A celebration of his life will be held at a later date.
In his honor hold your loved ones close, hoist a beer, give him a toast, and laugh 'til the tears roll.
'Goodbyes are hardest, when the story ends too soon'
We love him and will miss him forever.