« Obituaries | Marion B. Brunelle
Marion B. Brunelle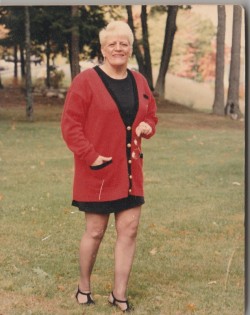 Date of Death: April 14, 2015
Date of Birth: June 17, 1936
Biography:
Marion Brunelle 78 of Greybirch Dr Augusta, passed away on April 14 of complications from pneumonia at MGMC.
Marion was born in a small community on 6-17-36 in CornerBrook Newfoundland Canada. She is the daughter of the late Jordan and Kate Pottle. She attended schools while she lived in Canada.  She came to the United States in 1955 where she began her life as a wife and mother.  Marion worked at many different jobs through her life. While her children were small she worked at The Augusta General Hospital and later on worked many years at the Augusta Civic Center.  She made many friends while working at both facilities. She retired in 1984 and spent her time enjoying her grandchildren and her gardens.  Marion belonged to the American Legion Post 2 where she loved to spend time dancing and talking with many friends.  She loved the people she met there through the years. They became a big part of her life.
Marion is predeceased by her beloved Son Michael, her loving parents Jordan and Kate Pottle, younger brother Jerry, baby sister Kimberly, her nephew Todd.
Marion is survived by her children, Rhonda and Darrell Standish, Kimberly Perry, Penny and Dwight Whitten, Linda (Red) and Doug Chattley. Deb Elliott. Grandchildren are as follows, Ian Perry, Tiffany Gillespie, Chad Whitten, Amber Perry, Donovan Standish, Cory Whitten, Katie Whitman Dylan Perry.  Great grand children Spencer Gillespie Lucas Gillespie   Ava Lynn Whitten and Alora Perry.  Marion's siblings, Gordon and Ellen, Beverly, Edna and Buzz, Linda and Ivan, Dianne and Randall, Wayne and Lorraine many nieces and nephews.     our extended family our other mom Janice Perry, brothers Tony, Patrick, Douglas and Christopher Perry, all of the wives and children. and Marion's adopted sons John Elliott and Scott Huard, Thank you goes out to each and every family member and friends you have made a difference in Marion's life and ours.
Thank you to the staff at MGMC for your kindness, care and loving touches.  You made her feel safe and comfortable we as a family appreciate that.

The family will be having a celebration of her life at the American Legion Post 2 at 1pm on Sunday April 19th.   In lieu of flowers, spend a moment with the ones you love the most and cherish those moments because they could be gone in a split moment. We would prefer that  you enjoy the flowers that surround you this spring and summer and may they bring Marion to your thoughts with a smile.