« Obituaries | Colleen Marie (Brule) Greeley
Colleen Marie (Brule) Greeley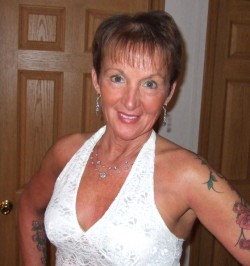 Date of Death: September 27, 2015
Date of Birth: January 6, 1958
Biography:
LEWISTON – Colleen Marie (Brule) Greeley, 57, of Lewiston died peacefully on Sunday, September 27, 2015 at home, surrounded by her loving family.
She was born January 6, 1958, in Lewiston, the daughter of Donald Brule and Valerie (Winslow) Brule.  Colleen attended local schools, graduating from Edward Little High School in 1976.
Colleen was most recently employed by Tri County Mental Health in Lewiston. She was also previously employed by St Mary's Regional Medical Center and Geiger Brothers, both of Lewiston.
Colleen enjoyed spending her time with the love of her life, Steven Greeley.  Together they enjoyed going out dancing, taking long walks, and going to the beach. Colleen and Steve shared a love for tattoos, and she had started quite the collection of floral, poetic, and family centric pieces. She enjoyed watching her three sons grow into wonderful young men and valued the time she was able to spend with her beautiful grandchildren.  She spent a lot of love, patience, and time creating and crafting special mementos for all of her family.  Colleen celebrated life, cherished her family and friends, and lived life to the fullest. She always had a positive outlook, which grew even stronger during the hardest times in her life.
She will lovingly be remembered as a beautiful, thoughtful, and caring wife, daughter, mother, grandmother, sister and aunt.  Colleen always approached her relationships with the utmost love and devotion.  Her huge heart and caring will resound throughout all of the lives that she has touched.
Colleen is survived by her husband of 16 years, Steven Greeley of Lewiston; her mother and father, Donald and Valerie Brule of Lewiston; her sister Michelle Greenier and her husband Jeffrey of Turner; her children Ryan Turcotte and wife Jessica of Monmouth, Joseph Turcotte and his wife Anna of Portland, Stephen Turcotte and his wife Jenny of Gorham.  Also surviving are her grandchildren, Lily, Clara and Ava Turcotte of Monmouth, Crew Turcotte of Portland, Moby Turcotte and Hannah and Grace Libby of Gorham; and nieces Macey and Meagan Berube of Turner. She will also be missed by her two cats Allie and Haney.
Colleen was predeceased by her maternal grandmother Cecile Winslow and her paternal grandparents Joseph and Vera (Brule) Gallant.
Visiting Hours will be held at Funeral Alternatives, 25 Tampa St. in Lewiston on Thursday, October 1, 2015 from 4 to 7 pm.  Services will be held the following morning at 10 am at Funeral Alternatives.
In Lieu of flowers, donations can be made to The Dempsey Center, Androscoggin Home Care and Hospice, or the Greater Androscoggin Humane Society.