« Obituaries | Christopher L. Brown
Christopher L. Brown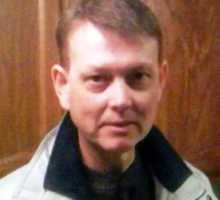 Date of Death: October 22, 2013
Date of Birth: June 5, 1960
Biography:
SCARBOROUGH — Chris left this world to be with his dad and Grammie Brown Stevens at the age of 53 on Tuesday, Oct. 22, at Gosnell Memorial Hospice House in Scarborough, after a long battle with cancer, with his loving family by his side — including his best friend, Oliva Gorey.
He was born in Lewiston on June 5, 1960, to Gloria Jean "Jeanie" and Gilfred Brown. He grew up in Leeds, attended Leeds Central School and graduated from Leavitt High School in 1978.
For the past 13 years, he worked and lived in Portland. He started his career as a CNA and continued his education in the medical profession; he was a social worker until his ill health. He dispatched for the Livermore Falls Police Department, as well as other volunteer work.
He was a great pianist and organist. He played the organ at several churches, including his hometown Leeds Community Church, and worked with the choir and was organist for many weddings and funerals. He had a beautiful perennial garden which he spent a great deal of time working on to make it that way and it became more beautiful each year. He was a great photographer and sold many of his prints.
He is survived by his mother and step-father, Jeanie and Russell Hubbard; his brothers, Tim and his wife, Denise Brown, Scott and Pam Brown and Douglas Brown; his nieces and nephews, Cassie Brown, Brody Brown, Tim Brown Jr., Katie Brown, Alex Brown and Mathew Brown; his stepsisters, Lisa Whynot and husband, Tom, Amy Black and husband, Robert, Becky Geschwind and husband, Mike, and Beth Kelley and husband, Scott; his step-brother, Jason Hubbard and wife, Sarah, and their families; best friend, Oliva Gorey; many aunts, uncles and cousins; and two Maine Coon cats, Missy and Mandy, that he loved dearly.
He was predeceased by his dad, Gilfred Brown in 1985; and his maternal and paternal grandparents on each side of the families.
We wish to thank the staff at Gosnell Hospice for their great care in the short time he was there, as well as the Scarborough Cancer Treatment Center during his illness.
We love you, Chris, and miss you so much.
A celebration of life will be held from 1 to 3 p.m. on Friday, Nov. 1, at Leeds Community Church. If anyone has pictures of Chris, they may bring them to share. In lieu of flowers, contributions may be made to the American Cancer Society.