« Obituaries | William B. Brown Jr.
William B. Brown Jr.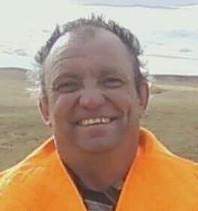 Date of Death: February 11, 2013
Date of Birth: April 30, 1961
Biography:
Hebron- "Oh death where is your sting?" "I know where I am going, if you have faith in Jesus Christ, then you can meet me there too". Those were some of the last words spoken by William B Brown, Jr. (a.k.a Boopy and The Yote Buster), 51, of Hebron. He walked peacefully into the arms of his Heavenly Father on Monday, February 11, 2013 at his home in Hebron, Maine. Known for being a preacher without walls, Billy loved God and loved people with excellence. He was a loving husband, wonderful father, proud papa, devoted brother, and from the words of his father, "a hero". Bill was the perfect picture of God's love and a great example to all. An avid outdoorsman, Bill enjoyed hunting and fishing with all of his buddies whom he loved deeply. Bill will be remembered by his infectious smile and sense of humor. Anyone could count on him for a good laugh! We love you Bill.
Bill was born on April 30, 1961, the son of William B Brown Sr. and Vicky A. Brown. He was a faithful member of the McFalls Vineyard Christian Church. He made his living as a Clam Digger and Woodsman.
Bill was predeceased by his Father-in-law, Wendall Douglas of Hebron, Maine
He is survived by his high school sweetheart of 34 years, Mary Lou Brown (a.k.a Moo), three beautiful children; Tanya M. Danowski and her husband, Rich Danowski, Joshua Brown and his wife, Brittney Brown, Mariah Trynor and her husband, Keith Trynor. Two younger brothers; Ray Brown and Darren Brown and a younger sister Leigh Faulkner and her husband Clarence Faulkner and four precious grandchildren; Hailey Brown, Makaila Brown, Madison Brown, and Hunter Brown. He also leaves behind his mother-in-law; Beverly Douglas; and several nieces and nephews, Caleb Faulkner, Gabe Faulkner, Jonathan Brown, Amber Brown, and Danielle Brown; and a wide array of aunts, uncles, cousins and beautiful friends that will miss him dearly.
Bill's life was celebrated on Saturday February 9th, 2013; therefore, there will be no funeral services. Mary Lou and the family would like to thank the hundreds of family members and friends who embraced and supported Bill during his journey. The family is so very thankful for the special hunting trip to Montana sponsored by Bill's clamming buddies – Thank you all!