« Obituaries | Shirley M. (Currier) Brown
Shirley M. (Currier) Brown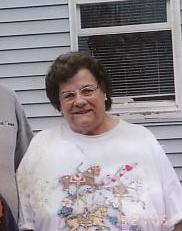 Date of Death: February 15, 2012
Date of Birth: October 25, 1936
Biography:
AUGUSTA – Shirley M. (Currier) Brown, 75, died on February 15th, 2012 after a long illness.
She was born on October 25th, 1936 the daughter of Elwood and Emma Kaherl.
In June of 1957 she married John E. Currier Sr. and together they raised 4 children. Shirley worked for Albany International for 28 years. She then worked for 15 years as a C.N.A. at area nursing homes.
She was a devoted wife, mother, grandmother, and great-grandmother. Shirley enjoyed baking, knitting, camping and spending time with family.
She is survived by sons John Currier of Augusta, Timothy Currier of Florida; daughter Anne Batson of Sanford; sister Charlotte Budlong of Tacoma, WA; 16 grandchildren Hope, Kaila and Kelsey Currier, Trisha Tolman, Mandy Hernandez, Alyssa and Hillary Annance, Lea Boisvert, Jennifer, Heather and Greg Reed, Micheal Dube, Jeremy Dube and Jasmine Dube; 17 great-grandchildren; and many nieces and nephews. She was predeceased by husband John Currier; brother Linwood Kaherl; daughter Lorraine Reed; grandson George Rehm; and her parents.
Shirley's family would like to thank the staff at Augusta Rehabilitation and also Beacon Hospice for their wonderful care.
Graveside services will be held in the spring. In lieu of flowers, donations are preferred to the Activity Fund at Augusta Rehabilitation, 188 Eastern Avenue, Augusta, ME 04330.