« Obituaries | Jacquelyn Brown
Jacquelyn Brown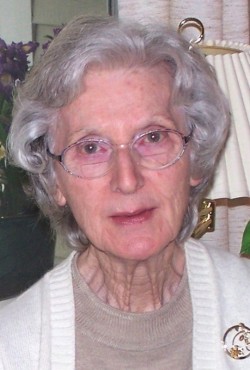 Date of Death: July 29, 2017
Date of Birth: August 31, 1922
Biography:
HALLOWELL, ME. Jacquelyn P. Brown, 94, died on July 29, 2017, at MaineGeneral Medical Center, Augusta. She went to join her husband, Emerson S. Brown, who had gone on ahead in 2009. Now they are "together forever," as it was meant to be.
"Jackie" was born and raised in Seattle, Washington, the daughter of William H. and Rosalind (Hanslin) Faulds. She was a graduate of Roosevelt High School, Class of 1939, and Edison Vocational School in Seattle. She worked first for a savings and loan company and then for Pan American Airways, enjoying being part of the work-a-day world, without much thought of traveling far. Then in 1943 fate stepped in, when she and a Navy man from Maine found each other at a USO dance. In 1944 she and Emerson S. Brown were married. They made it through WWII's worrisome separation, then reunited and welcomed a much-loved son, Jeffrey, who brought much joy to their lives. Early on she became a willing transplant to the State of Maine and shared her husband's love of Grand Lake Stream, which was always "home". They were happiest when they were together: during his Navy career years, later in Augusta where she worked at Augusta General Hospital and he was a pharmacist at the Togus VA hospital, and during retirement at their cottage in Grand Lake Stream in the summers and in St. Petersburg, Florida in the winters. They both felt truly blessed by their years together and the close-knit family they loved so dearly. How beautiful were the memories of family times that warmed their hearts through the years!
Although Jackie wrote her own obituary, the family would like to add a few words about who she was as a woman. She was creative and intelligent, considerate to others, and always thinking of the welfare of family members, neighbors, and friends. Whether cooking delicious meals, making adorable Christmas ornaments, or finding just the right gifts and cards, she showed her love in many ways. She adored her grandchildren and great-grandsons. We all miss her terribly, as we do "Grampa".
In addition to her parents and husband, she was predeceased by her brother and his wife, retired Col. and Mrs. R.D. Faulds; and sister-in-law and husband, Mary and Val Moore, and their daughters Barbara and Madine.
She is survived by a dear son and daughter-in-law, Jeffrey and Anna (Longfellow) Brown of Winthrop; grandchildren Seth W. Brown and wife Sarah of Indiana (Jackie was eagerly awaiting the birth of their son in September), and Kristin Giguere and husband Adam of Winslow, great-grandsons Aidan and Tanner Giguere who were the lights of her later life, and two nieces and a nephew.
The family would like to thank the doctors, nurses, and staff of MaineGeneral Medical Center, especially 2 West, and MaineGeneral Hospice, who were so thoughtful and caring of her and the family during this difficult time. We bless you all.
Jackie will be laid to rest in Grand Lake Stream, Maine, with her husband, whom she loved and happily shared her life with for 64 years. Burial of cremains will occur at the convenience of the family, with no visiting hours or funeral service, as she wished
Arrangements are under the care of Funeral Alternatives Group, 198 Western Avenue, Augusta, ME 04330.