« Obituaries | Georgette A. Brooks
Georgette A. Brooks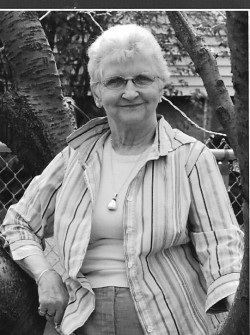 Date of Death: October 9, 2012
Date of Birth: February 26, 1934
Biography:
Auburn- Georgette A. Brooks, 78, died October 9th, 2012, at Androscoggin Hospice House on the Stetson Rd. in Auburn with family at her side after a battle with cancer.
Georgette was born on February 26, 1934 in Mercer, Maine to Francis and Stella (Brown) Westleigh. The youngest of 11 children, Georgette moved to Lewiston at the age of nine after her father's death. She attended school in Lewiston. She married Walter D. Brooks on December31, 1951 and together they raised ten children.
She enjoyed spending time with family, travelling to Foxwood, Salem NH, and other bus-trips with family. Georgette also enjoyed taking the Scocia Prince, spending time shopping with daughters, daughter-in law and granddaughters. She attended Harvest Hills Church in Auburn.
Georgette is survived by daughters Wanda Davis and husband Tim, Denise Webber and husband Duane, and Bonnie Brooks; sons David and wife Pam, Perry, Rick and Bruce; daughter-in-law Lisa, 25 grandchildren and 50 great- grandchildren and many nieces and nephews.
She was predeceased by her husband Walter D. Brooks, sons Percy, Kevin and Keith Brooks, sisters Margaret, Arlene, Florence, Charlotte, brothers Albert, Arthur, Roland, Kenneth, Milford and Sherlon.
Friends and family are invited to calling hours on Friday, October 12, 2012, from 2pm to 4pm and 6pm to 8pm at Funeral Alternatives, 25 Tampa St., in Lewiston. There will be a funeral service on Saturday, October 13, 2012 at 10am at Funeral Alternatives with the burial to follow the service at Pine St. Cemetery in Auburn.
The family would like to thank the staff and volunteers of the Hospice House for their care.