« Obituaries | Frank Briseno
Frank Briseno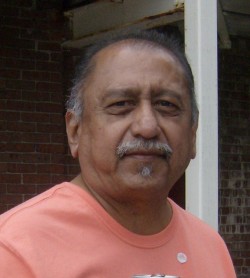 Date of Death: June 15, 2012
Date of Birth: December 4, 1955
Biography:
LEWISTON-Frank Briseno, 56 yrs. old, of Lewiston, ME, died on June 15, 2012, at his home at 31 Lincoln Dr Lewiston, ME
Frank was born on Dec 4 1955 to parents Manuel and Francis Briseno.
He was a veteran of the U.S. Army, and was also involved in the Acme Snow Shoe Club in Lewiston. Frank enjoyed golfing, gardening, watching western movies, drinking a cold beer, and ladies with red
hair
Frank worked as a tow truck operator in the Army, then as a Truck Driver, worked Construction, and he was also a handyman.
He was predeceased by his mother, father, Brother George Briseno, and a nephew Ben Briseno
Frank is survived by Daughter Kristy Grover and her two daughters Kayleigh and Kalea, Daughter Tanya Mitchell
and her son Dylan and Daughter Leah, Son Jason Grover and his daughter Sophia and Son Jaxon. Brother
Manuel Briseno and his 3 children, Sister Lupe Lopez and her 2 children, Sister Emma Briseno and her 3
children, Brother Moises Briseno and his 2 children, Brother Ben Briseno and 1 child, Adopted brother
John Soto.
A celebration of life will be held on July 7th, 2012 at 3:00pm at the Acme Snow Shoe Club Park Ave Lewiston, ME.
In Lieu of flowers, please send donations to Jason Grover 148 Davis Ave Auburn, ME 04210.