« Obituaries | Joyce A. Brillant
Joyce A. Brillant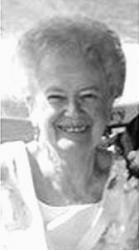 Date of Death: June 3, 2014
Date of Birth: July 22, 1932
Biography:
TOPSHAM — Joyce A. Brillant, 81, went to heaven June 3, 2014, at Mid Coast Hospital in Brunswick, surrounded by her family, after declining health. Born in Brunswick on July 22, 1932, a daughter of John Lewis Alexander and Mae Williams (Brown) Alexander, Joyce graduated from Brunswick High School in 1951 and married her high school sweetheart, Tim Brillant on Aug. 21, 1952. They celebrated 59 years of marriage. Their wedding verse: It is not good that the man should be alone; I will make him and help meet for him. (Genesis 2:18)

She began her career working in the telephone company. With a strong work ethic, she and her husband later founded Brillant Motors. She was the bookkeeper of the business and the significant partner to her husband. She enjoyed the social aspect of their customers, hearing about their families and being able to help them.

Her greatest passions were her husband and family. She enjoyed many years that were spent at their cottage in Harpswell with family and friends, watching her bird feeders and squirrels, gardening, going for rides, and dining out. Her persistence and determination allowed her to maintain her daily presence at the dealership. In her lifetime she was a member of the Brunswick Elks Lodge #2043, American Legion Post #202 Topsham, Topsham Fair, and an honorary member of the Topsham Garden Club.

Joyce is survived by her son Leon and his wife Marie; daughter Marsha and her husband Jerry Lamarre; grandchildren, Leon II and his wife Erica Brillant, Kristina and her husband Kirk Grover, Timothy Brillant and his partner Zack Morin, Lindsay Rice and her companion Logan Weir, Caitlin Rice and her companion Desmond Fitzherbert, Micheal Gray and his companion Shelley Sturtevant, Nickolas Brown and his companion Amber McInnis; great-grandchildren, Jason, Marc, Kali, Devin, Sadie, Leon III, Maxton, Alexander, Jasmine, Kody and Kyla; and her sister Joan Goodenow.

She was predeceased by her husband Tim; daughter in law Judith Brillant; greatgrandson Tyler N. Brown; brother Orin Alexander; sisters, Thelma Darling, Ida Moody, and Myrtle Lavigne.

The family would like to thank Scott W. French, M.D., and Mid Coast Medical Group, David Benton, M.D., and MCCM, R. Scott Schafer, M.D., and Mid Coast Cardiology, and Mid Coast Hospital for the wonderful care that Joyce received.

Per her request, there will be a graveside service at Maquoit Cemetery in Brunswick, where she and her husband will be laid to rest on Saturday, June 14, 2014, at 10:30 a.m. A reception will follow at the Topsham Fair Grounds. In lieu of flowers, donations may be made to the Topsham Garden Club at 38 Cumberland St, Brunswick, ME 04011. Arrangements are by Funeral Alternatives, Brunswick, Maine.www.funeralalternatives.net.