« Obituaries | Francis R. Breton
Francis R. Breton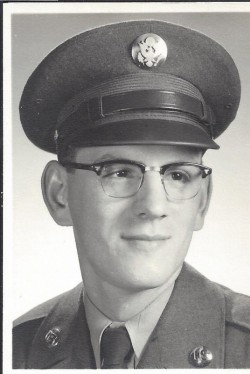 Date of Death: April 29, 2015
Date of Birth: July 5, 1938
Biography:
FRANCIS R BRETON, 76, OF AUBURN DIED
WEDNEDSAY APRIL 29, 2015 AT THE
HOSPICE HOUSE SURROUNDED BY HIS WIFE
AND CHILDREN. FRANK WAS BORN JULY
05, 1938 IN LEWISTON, THE SON OF
NAPOLEON HENRY AND ALMA BRETON.
HE GREW UP IN THE LEWISTON AND
AUBURN AREA AND HAS BEEN A LIFELONG
RESIDENT. FRANK PROUDLY SERVED HIS
COUNTRY IN THE U.S. ARMY. HE ENJOYED
BINGO, BOWLING, DANCING, LISTENING TO
HIS SON FRANK JRS BAND AND MOST OF
ALL HIS FAMILY. FRANK WAS MARRIED
ON OCTOBER 25TH, 1969 TO JEANNETTE
TRIPP, WHO SURVIVES HIM. FRANK WAS
SELF EMPLOYED FOR MANY YEARS AND
WORKED ALONG SIDE HIS SON FRANK JR,
UNTIL HE FELL ILL. FRANK WAS
PREDECEASED BY HIS PARENTS AND 8
BROTHERS. FRANK IS SURVIVED BY HIS
WIFE, JEANNETTE BRETON; TWO BROTHERS
ROGER BRETON AND HIS WIFE ROLANDE
AND MARCEL; 12 CHILDREN DIANE DUBOIS,
RICHARD F AND HIS WIFE CHERYL, BRENDA
DUBOIS AND HUSBAND STEVE, JANET
PROCTOR AND HUSBAND GEORGE, JANICE
COLEMAN, GERRY AND SIGNIFIGANT OTHER
LISA ROY, RICHARD E AND WIFE GINA, PAM
GRIFFIN AND HUSBAND TOM, FRANK JR
AND WIFE LENA, DANNY, SCOTT AND WIFE
WANDA AND JOHN AND SIGNIFIGANT
OTHER TINA HAZELTON. FRANK WAS
ALSO BLESSED TO HAVE 39 GRANDCHILDREN AND 23 GREAT-GRANDCHILDREN. THE FAMILY
WOULD ALSO LIKE TO EXPRESS SINCERE
GRATITUDE TO ANDROSCOGGIN HOME
CARE & HOSPICE, THE HOSPICE HOUSE AND
EAST AUBURN BAPTIST CHURCH
(ESPECIALLY JIM TEEHAN) FOR YOUR KIND
WORDS AND YOUR HELP.
A MEMORIAL VISITATION WILL BE HELD FROM 10 TO 11am ON TUESDAY, MAY 5th, 2015 AT EAST AUBURN BAPTIST CHURCH 560 Park Ave, Auburn, ME.