« Obituaries | Marian Alice Noyes Brann (Flanders)
Marian Alice Noyes Brann (Flanders)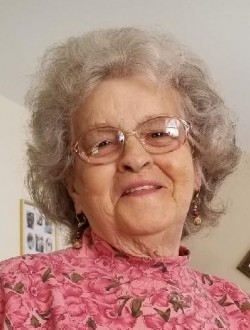 Date of Death: March 18, 2022
Date of Birth: July 15, 1935
Biography:
AUGUSTA - It is with deep sorrow and much love that we mourn the passing of our beloved mother, grandmother, sister, aunt and friend, Marian A. Brann on March 18, 2022 at the age of 86. She was a bright spark in the world who touched many lives and will be deeply missed by many.
Marian was born in Augusta, Maine in 1935 to Raymond E. Noyes and Louise Mosher Noyes.  She attended Erskine Academy then married the love of her life, Joseph A. Brann, on March 10, 1951 in Jefferson.
Marian loved life and liked to have fun, she was always the life of any gathering.  Her greatest joys in life were her family, helping others and gardening.  She also enjoyed cooking meals to share with friends and family.
All her life she was a hard worker, from blueberry fields to christmas tree farming to making a homestead.  She worked at Health-Tex, Country Manor Nursing Home and at the Bureau of Motor Vehicles.  Even retirement couldn't stop her as she then operated Flanders Boarding Home.
She is predeceased by her husband, Joseph Brann; parents, Raymond Noyes and Louise Mosher Noyes; brother Edwin Noyes and wife Charlotte; sister Arlene Wellman and husband Owen; grandchildren Ronald Savage, Jr., Dwayne Brann, Scott Brann; and great grandchild Ryan Wayne Mullens.
She will be lovingly remembered by her surviving children, David Brann and wife Sandra of Augusta; Jeanne Brann of Ft. Myers, FL and Terry Brann and wife Sue-Ann of Winslow; her sisters Madeline Campbell and husband David of Augusta; and Dianne Harrington and husband Eddie of Richmond; grandchildren Michelle Carter and husband Daniel of Waldoboro, Jolynn Bryant and husband Kerry of Augusta, Stacy Savage of Freeport, Nicole Goodheart and husband Ron of Oakland and Angela Hanson of Winslow; great grandchildren Andrew, Nicole, Joey, Lake, Shyanne, Emily, Jordon, Aubrey, Callie, Riesling, Hunter and Iris; and many nieces and nephews.
A celebration of life will be held in late spring.
In lieu of flowers, memorial contributions can be made to MaineGeneral Health, Alzheimer's Care Center or Glenridge Patient Activities, PO Box 828, Waterville, Maine 04903-0828 or online at https://give.mainegeneral.org/ways-to-give---memorial/tribute.
The family sends a special thank you to the staff at the MaineGeneral Rehabilitation and Long Term Care at Glenridge for their care and compassion.