« Obituaries | Russell Alden Bragdon
Russell Alden Bragdon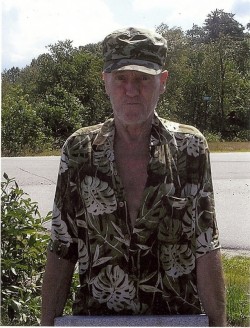 Date of Death: June 19, 2012
Date of Birth: March 22, 1950
Biography:
Leeds- Russell Alden Bragdon, 62, a Vietnam veteran long known for his honesty and wit, died on June 19, 2012 in Leeds after a long and courageous battle with cancer. He died at home surrounded by his love ones.
Russell was born in Lewiston on March 22, 1950, the son of Alden M. and Celia I (Russell) Bragdon. He worked at various handy-man jobs and worked for several years in the employment of Joe Murphy.
He enjoyed gardening, hunting, wood-working, spending time with family, his pets, and especially his dogs.
Russell was predeceased by his father.
He is survived by his son Stacy and his wife Debbie Bragdon, daughter April and her husband Joe Bouchard, his mother Celia Wyman and her companion Bob Switzer, his sisters Eleanor and her husband Jim Leblond, Doris and her husband Wayne McNally, Audrey and her husband Ray Henderson, Judy and her husband Pete Richmond Jr., Betty and her husband Tom Brown, brothers Alden Jr.(Tag) and his wife Barbara, Ralph and his wife Terry, 3 grandchildren, Seth, Annie, and Mariah, many nieces and nephews, and his long-time companion Joy Begley and his dog Scooby-Doo.
A celebration of life will be held at a later date.
In lieu of flowers donations may be made to the Bragdon Family Trust, C/O AmVets Hall, 1095 Lewiston Road, New Gloucester, ME 04260, and to the Androscoggin Humane Society, 55 Strawberry Ave, Lewiston ME 04240.