« Obituaries | Doris Ann Bradstreet-Sartwell
Doris Ann Bradstreet-Sartwell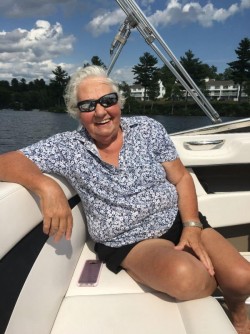 Date of Death: May 27, 2022
Date of Birth: December 8, 1945
Biography:
Topsham – Doris Ann Bradstreet-Sartwell, 76, passed away on Friday, May 27, 2022 at the home of her youngest son and daughter-in-law, Jimmy and Angela Bradstreet of Topsham.
Doris was born on December 8, 1945 to Leo and Imelda Brunelle of Lewiston, she was one of  four children.
 Soon after high school, Doris, married the love of her life, Albert Bradstreet, and they raised 5 children in Topsham.  Doris was known for her "beautiful cakes" and found a new calling when they lost their beloved daughter, Julie, to cancer at age 6.  Doris forged on and became a Registered Nurse, taking classes at night while raising her family.  Her career spanned over 20 years at Mid-Coast Hospital and she saw many changes and a consolidation during that time.
On August, 6, 1992, her husband, Albert Bradstreet, passed from prostate cancer at the young age of 47.
In 2000, Doris met Bill Sartwell of Connecticut.  They both had a passion for gambling and traveling, to the point they got married on 7-7-07 for good luck.  After Doris retired, they had the pleasure of traveling the country in their RV, and had many adventures along the way for the remainder of their lives together.  Doris was predeceased by Bill this past year.
Doris's other love was yard saling and always looking for a "good deal" with her best friend Lori Cooper of Bath.
Doris leaves behind three sons, Rick Bradstreet, Roger Bradstreet, and Jim Bradstreet all of Topsham and a daughter, Mary Bradstreet, of Bailey Island; nine grandchildren, and seven great-grandchildren; and many nieces, nephews and beloved friends.  She would be amiss if her treasured "fur" boys, Dillon and Alfalfa, weren't mentioned as well.
A small graveside service will be held on Saturday, June 25, 2022 at Sawyer Cemetery in Durham, ME on Route 136 (Royalsborough Rd) at 11:00 am.   A celebration of life will follow at 1:00 pm. at the American Legion Post 21 located at 200 Congress St, Bath, ME.