« Obituaries | Frank M. Bowie
Frank M. Bowie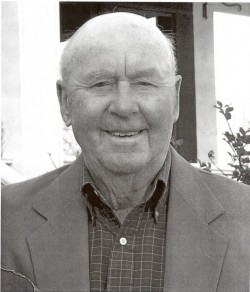 Date of Death: May 21, 2012
Date of Birth: February 5, 1923
Biography:
Auburn- Frank M. Bowie, of Durham, Maine, passed away peacefully May 21 at the Hospice House in Auburn where he had been in their kind care for a short time.
Frank was born on February 5, 1923 to Leon R. and Almeda Libby Bowie in Durham. He attended Durham schools and was a graduate of Edward Little High School in 1940. Frank was a dairy farmer all his life and provided milk to generations of local families. On April 15, 1950 he married Lucille G. Williams of Taunton, MA. Frank was an active politician at the town and state level for many years. He was a member of the 97th and 100th Maine State Legislature. He also served his community as the chair of the Budget Committee and was the annual town meeting moderator for decades. Frank served 55 years as a director for the Concord Group Insurance Company.
If there was a spare moment to be had you would find Frank wetting a line at his secret fishing holes. Frank's positive outlook on life was contagious. He was truly happy with his lot in life and went out of his way to share a smile with all he came in contact.
He is survived by his wife, Lucille and their children, Jeffrey and wife Becky of Atlanta, GA, Betsy Talbot and husband John of Westfield IN, and Eric of Durham, his sister Margaret Rendall of Yarmouth, and brother Maynard M. Bowie and his wife Glenice of Wales. In addition he leaves his grandchildren, Joshua, Hannah, Andrew, Patrick and Karen, great grandchildren and many nieces and nephews who thought the world of Uncle Frank.
Frank was predeceased by his parents, his brothers Eben, Luke, Philip, and Beanie, his sisters Alice, Louise and Dorothy and grand daughter Elizabeth.
A Masonic and graveside service will be held on Thursday, May 24th at the Parker Cemetery on Bowie Hill in Durham at 1 :OOPM.
In lieu of flowers contributions may be made to the The Hospice House in Auburn, Maine.
Condolences may be expressed at www.funeralalternatives.net