« Obituaries | Carroll Charles Bowie
Carroll Charles Bowie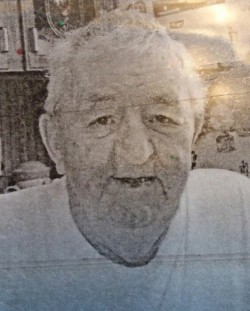 Date of Death: June 4, 2018
Date of Birth: September 18, 1933
Biography:
Carroll C. Bowie, 84, of Livermore Falls passed away at the Togus VA Hospital on June 4th, 2018.
He was born in Clinton, Maine on September 18th, 1933 to parents Charles and Edna (Gatherer) Bowie.
On September 7th, 1959 he married Joyce Begin.
Carroll was a truck driver, retiring after 47 years. Following his retirement, he worked for Livermore Falls Transfer Station as  head caretaker.
He was a member of the Teamsters.
Carroll was a lover of old country music, and old westerns. He played guitar and sang, and dedicated an entire room to his album and music collection.
He was predeceased by his parents and two sisters.
He will be missed by his loving wife of 58 years, Joyce (Begin) Bowie; his children, Roxeanne Mark and his wife Jestine, Catherine and Carroll.
At his request there will be no services. A private burial will take place at the Veterans Cemetery in Augusta.