« Obituaries | Helen Kevser (Fisher) Bowden
Helen Kevser (Fisher) Bowden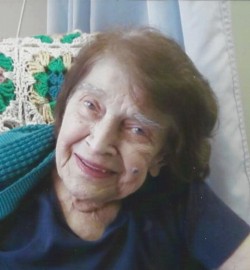 Date of Death: March 3, 2014
Date of Birth: December 15, 1927
Biography:
Helen Kevser (Fisher) Bowden, 86 of Lewiston passed away peacefully on Monday March 3, at St Mary's Hospital in Lewiston surrounded by her family. She was born in Lewiston on December 15, 1927, the first born of the late Harry and Helen Herling Fisher. Helen was a lifelong resident of Lewiston. She attended Barkerville, Frye, Jordan Schools; and graduated from Lewiston High School. She married George S Bowden in March 1951. 
Helen will always be known for her voice on political views.  She was a self-taught artist and piano player.  When she was younger she enjoyed skiing, traveling, sewing, music, dancing, oil painting, stenciling and camping.
She worked at J.J. Newberry's, The Eagle Mountain House in Jackson, NH, Ward Brothers and was a Tupperware Dealer. Helen retired from the Lewiston Sun Journal after almost 40 years.  When her husband George died unexpectedly on May 4, 1984 at the age of 57, Helen stayed busy working, going to book sales, reading, listening to talk radio, doing crossword puzzles and talking about politics. Most recently she enjoyed watching the squirrels, birds and other wild life outside her window at Montello Manor.
She is survived by four children and their spouses, Jeffrey and Judy Bowden of Greene, Stephen and Susan Bowden of Lewiston, Julie and Gaston Doyon of Turner and Casey Bowden and Shealie Metayer of Lewiston.  Brother William and Suzanne Fisher of Lewiston, sisters Sally Dee of Auburn, Sandra and Bertrand Fournier of Westbrook and Rosalie Baker of Maryland; and 9 grandchildren, Todd, Shelly, Stephanie, Stacey, Sandy, Joshua, Jared, Casey and Christopher; and 16 great-grandchildren, 8 great great-grandchildren; and several nieces and nephews.
She was predeceased by brothers Harry Fisher, Robert Fisher, Jack Fisher and sister Nancy Fisher.
The family would like to give a special "thank you" to the staff at Montello Manor, St. Mary's ER and ICU and also to Dr. Kurt Oswald, Rev. Marian Marks, and Shealie Metayer.
Grave side services will be held in the Spring at Gracelawn Memorial Park in Auburn, Maine.