« Obituaries | David L. Bourassa
David L. Bourassa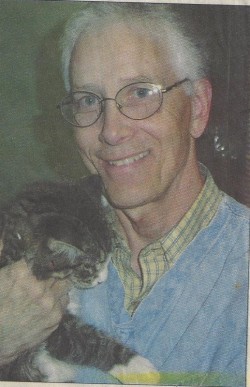 Date of Death: January 27, 2015
Date of Birth: March 19, 1947
Biography:
David Leo Bourassa, 'Dr.B'
TOPSHAM - David passed away peacefully at home in Topsham, ME on the morning of January 27, 2015 surrounded by his wife and four daughters and a blanket of white snow falling outside his window. He was 67 years old. David lived his life with courage, love, humor and grace to his very last hour, even with the pulmonary fibrosis that led him away. He was born in Rumford, Maine on March 19, 1947 to Clarence and Lorraine Bourassa. He is survived by his wife of 42 years, Dale Bourassa; daughter Gillian Roy and her husband Joshua Roy; daughter Lindsey Bourassa; daughter Caitlin Bourassa; daughter Jamie McKenzie and her husband Alex McKenzie; grandson Owen McKenzie; his four brothers, 'The Bourassa Boys,' Bill, Bob, Tim and Denis Bourassa; and his four beloved cats Tally, Trip, Prince Charming and Noah.
David grew up on Pine Street in Rumford, on the same street as his wife Dale, in a neighborhood called 'Sticky Town,' where a molasses truck once tipped its contents into its streets. He and his brothers spent their days in the Maine woods, admiring its beauty and wildlife, fishing, hunting, exploring, and bringing their catches to their mother to cook for dinner. From a young age, David always held a deep love for animals and a profound respect for the natural world.
After high school David served in the Air Force, including a tour in Alaska, in order to obtain the G.I. Bill to further his education. After his service, he worked as a kennel boy at the Westbrook Animal Hospital, which inspired him to become a veterinarian. He graduated from the University of Maine Orono and then completed his Doctor of Veterinary Medicine degree at the University of Illinois in 1981. David's first job as a licensed veterinarian was at the Westbrook Animal Hospital, the very place that sparked his calling. David opened his own practice in Freeport, ME in 1983 and was the town's cherished animal doctor for 25 years. He healed, stitched, soothed and loved the animals that he treated with sincere compassion, often going to extraordinary and sometimes clever lengths. He also volunteered and later worked as the animal shelter veterinarian at the Brunswick Coastal Humane Society, giving his love and skill to many an abandoned and orphaned animal.

There was never a truer gentleman, nor a more generous, kind, open-hearted and brave soul. He exemplified what it means to be a truly great man, husband, father and friend. Throughout his life and in his retirement, he cherished the simple things: a good cup of coffee with the morning paper, the quiet of the Maine woods, a funny joke, a good conversation. He believed that nature was the only perfect thing in the world. He loved his family and friends with his whole heart and taught his daughters to follow theirs. David was so very strong and courageous throughout his journey, never letting his illness debilitate his spirit. One of his final gifts to his family and friends, through his example, was the reminder that there is immense power in surrendering to the now and to what is with calm and courage and to truly live and love until our last breath.
In his final months, David's family invited loved ones near and far to send 'Love Letters to David,' letters filled with fond memories, funny stories, and kind words giving many the opportunity to express their love directly to David before his passing. He so enjoyed the many touching letters that arrived every morning, filling his days with love. Thank you to all who wrote, visited, and called with heartfelt words. David will be deeply missed and forever loved.

If you wish, donations may be made in David's memory to:
The Brunswick Coastal Humane Society
190 Pleasant Street
Brunswick, ME 04011
A celebration of David's life is being planned for late March in Freeport, ME. Please join www.CaringBridge.org/visit/davidbourassa to receive details of his memorial in the coming weeks.