« Obituaries | David Romeo Boucher
David Romeo Boucher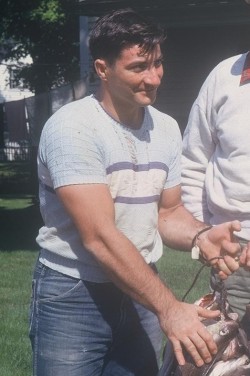 Date of Death: April 8, 2013
Date of Birth: January 10, 1931
Biography:
BRUNSWICK - David Romeo Boucher passed away Monday April 8th, at approximately 10 p.m. He was 82 years old, having been born on January 10th, 1931, in Auburn, Maine.
He was pre-deceased by his mother Irene Hamel & stepfather Leo Hamel of Durham, Me.; sister Nancy West of Oracle, Az; and brothers Leo, Raymond, and Roger Boucher, of Lisbon Falls, Me. He is survived by his loving wife of over sixty years Delphine Boucher of Bowdoin, Me.; brother George Boucher of Essex Jct., Vt.; children Susan Craig, Lila Bamford, and Jan Boucher of Bowdoin, Me., their spouses, his grandchildren Selena & Brandon Craig, Corinn Fehr, Chad & Micah Holloway, Joshua Bamford, Alyssa Hawkins, Megan Boucher, their families, and his nine great grandchildren.
He was educated at the Healy Assylum orphanage in Lewiston Maine where the majority of his siblings resided during the difficult times of the 1930's and 40's. The family purchased the former Snow farm on route 136 in Durham, Maine in the mid 1940's, and before completion of the 8th grade he left the orphanage to support the family. He worked on the family and local area farms, cut wood, and carried soda cases for Poland Springs in the Lewiston Auburn Area at first. Later, he worked for a tree surgery company as well and fought the devastating fires of 1947. He tried several times to enlist in the various branches of the military to fight in the Korean War, but was rejected due to flat feet and severe scholiosis of the spine. The scholiosis plagued him the rest of his life and forced his retirement in approximately 1987.
He began work at the United States Gypsum Companies' Lisbon Falls plant in 1952, and was married to Delphine S. Lidback, fka Delphine S. Wass, of Lisbon Falls, Maine on August 16th of that same year. He was a quick learner, exceptionally good with his hands and at problem solving. Before retiring as a foreman in the finishing department at the Gypsum, David worked towards his G.E.D., built his own house and raised his family on Upper Maine Street in Lisbon Falls. After retiring, he and Delphine built another home near their children on Adams Road in Bowdoin. David avidly maintained a vegetable garden throughout his life and cut wood to heat both his own home and the homes of his children. He was an active outdoorsman -- camping, hunting and fishing whenever he had the chance to do so. His kindness and generosity to family and friends is renown. He never hesitated to jump in and help anyone out no matter the time or difficulty of the situation. David also loved to visit back in the days when people made time to do so; family and friends meant everything to him.
He was a life member of the Independent Order of Odd Fellows and a member of the Lisbon Falls Baptist Church where he sang in the choir and helped in the construction of the life center. No words can express how deeply we miss him.
A memorial service will be held on Saturday April 27th

at 2:00 p.m. at the Lisbon Falls Baptist Church in Lisbon Falls, Maine. All friends and family are welcome. In lieu of flowers, the family requests that donations be made to the Lisbon Falls Baptist Church, or missionaries Corinn and Corey Fehr in care of Lisbon Falls Baptist Church.