« Obituaries | Doris D. Bouchard
Doris D. Bouchard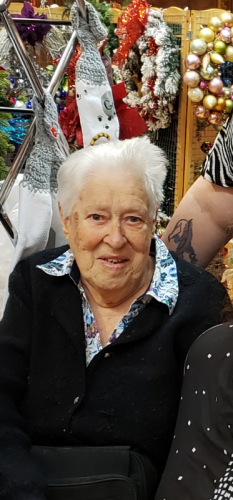 Date of Death: May 9, 2022
Date of Birth: June 23, 1928
Biography:
Doris D. Bouchard,93, of Lewiston passed peacefully at home on May 9th, 2022, in her daughter's arms after a battle with kidney disease.
She was born on June 23rd, 1928 the daughter of Paul and Clara (Galipeau) St. Laurent. She was born in Canton on the family farm; and helped take care of her brothers and sisters. She worked in the shoe shop and later retired from Pioneer Plastics. She married Alfred Bouchard on May 23rd, 1956. She raised two children and enjoyed going to camp, canning, cooking, gardening, and fishing with her husband. She took great pride in her flower gardens with her roses, peonies, poppies, and Bachelder buttons which her dad would ask her to plant as a young girl. Doris was constantly crafting, and going to craft fairs, and enjoying her retirement. She loved her family and took care of her grandchildren and her great-niece as often as she could. Her heart wanted to help with her great-grandchildren, however, in her 90s, knew it was not to be.
She is predeceased by her parents; her husband, Alfred Bouchard; twin brother Norman St. Laurent; brothers Larry and Richard St. Laurent; and her sister, Lorraine Klick
.Doris is survived by her daughter Diane and her husband Dan Beauchesne; her son Jim and his wife Carla Bouchard; three grandchildren; three great-grandchildren; and many nieces, nephews, great-nieces and great-nephews.