« Obituaries | Kirk M. Bouchard
Kirk M. Bouchard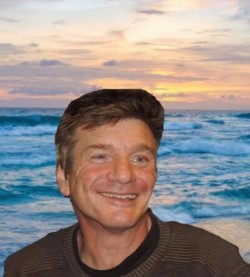 Date of Death: June 30, 2018
Date of Birth: November 15, 1965
Biography:
BRUNSWICK - Kirk M. Bouchard, age 52,of Brunswick, ME died suddenly on June 30th from an apparent Heart Attack battling heart disease since age 8. Born on November 15, 1965 to Paul & Barbara Bouchard of Winter Street in Topsham.
Kirk attended Topsham schools and received a GED from adult education. He loved the news, American History & anything worth debating. He had a strong faith in Christ and received a lot of support from the Salvation Army church. For many years Kirk enjoyed playing poker with family and friends weekly. He also enjoyed fishing and any excuse to be on the water. Kirk got a love for gardening from his dad and a great love of animals from his Mom. He loved and followed the New England Sports teams. Kirk was a friend to many and loved his Family but had a special bond with his Mom.
Kirk made a living from the ocean and anything he could get from it, clam digging, urchin diving, scalloping, elvering, retrieving just about anything with a shell.
Kirk was predeceased by both his parents.
Kirk is survived by his daughter, Ashley M. Campbell of Bath, Maine; son, Carl Littrell of Bangor, Maine; brother, Terry L. Smith of Freeport, Maine; his Twin brother, Keith P. Bouchard of Brunswick, Maine; his sisters, Crystal J. Letourneau of Bowdoin, Maine; Yvonne L. Elwell of Windham, Maine; and Debbie A. Grivois of Topsham, Maine.
Kirk is also survived by his grandchildren, brother in laws, special nieces and nephews, aunts and uncles, many special cousins, partners he shared his life with, and his ex-wife, April Ammons of Texas.
Services will be held at the Salvation Army Church on Congress Street in Bath, Maine on July 14th at 11:00 a.m. with a celebration of life directly following to be held at the same venue.
In lieu of flowers memorial donations may be made to the Salvation Army online at (give.Salvationarmy.org) or to your local chapter directly.
If anyone has a memory to share please send to (m.me/KIRKMBOUCHARD) all these memories will be added to the following Facebook page (fb.me/KIRKMBOUCHARD).
Condolences may also be expressed to the family at www.FuneralAlternatives.net.
Arrangements are under the care of Funeral Alternatives, 46 Bath Rd, Brunswick.