« Obituaries | Daniel G. Bonneau
Daniel G. Bonneau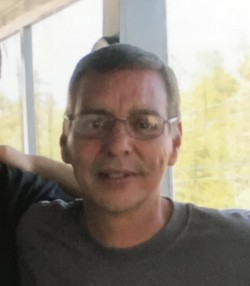 Date of Death: February 1, 2019
Date of Birth: September 22, 1961
Biography:
Lewiston -  Daniel G. Bonneau, 57, of Lewiston died Friday, February 1, with his family by his side at Maine Medical Center, following a brief illness.
Daniel was born in Lewiston on Sep. 22, 1961, to the parents of Bertrand Bonneau and Pauline Charest. He graduated from Lewiston High school in 1980.
Daniel worked for Country Lane Homes for many years, and did construction work as a foreman. He also worked for Safe Handling for 15 years as a Railroad Coordinator. He enjoyed spending time with his family and friends, visiting his brother in Tennessee, and making an appearance at countless social gatherings. He loved being surrounded by people who cared about him, and doing everything he could to make those around him smile and laugh at his jokes and mannerisms.
Daniel will be remembered for being the life of the party, his loving and generous heart, and his sense of humor. He always knew how to stay positive and make everyone smile. He was a man who would stand by your side, and put others first before himself. He took great pride in his Mi'kmaq heritage. He will be sadly missed by all of us.
Daniel is survived by his two sons, Joshua and Nicholas Bonneau of Lewiston; his sister, Dina Duval LeClair and her husband, Scott LeClair of Nashua, NH ; his brother, Denis Bonneau of Knoxville, TN; his stepfather, Raymond Duval of Lisbon Falls; his niece, Diana Bonneau of Mooresville, NC, and her daughter, Ariana; his nephew, Alden LeClair; his niece, Abbey LeClair.
He was predeceased by his father, Bertrand Bonneau, and his mother, Pauline Charest.
Our family would like to thank the staff at Maine Medical Center for keeping him comfortable in their care.
Visitation for Daniel will be held on Friday. February, 8 from 4-6 PM at Funeral Alternatives with a memorial service to be held at 6PM. Arrangements are under the care and direction of Funeral Alternatives, 25 Tampa St., Lewiston, Me. Condolonces mat be expressed at www.funeralalternatives.net