« Obituaries | Angelina M. Boisvert
Angelina M. Boisvert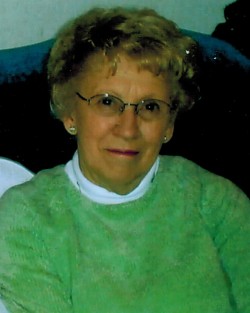 Date of Death: October 3, 2017
Date of Birth: September 22, 1929
Biography:
Angelina M. Boisvert, 88 of Lewiston, passed away unexpectedly on October 3rd, 2017 a short time of 10 days after the passing of her husband Romeo with her family by her side.
She was born on September 22, 1929 to John and Lillian Parent DeGruttla. She married her husband of 69 years, Romeo on June 26th, 1948.
Angelina worked at St. Mary's Hospital as a nurse's assistant, and then went on to work for several doctors as a medical secretary.
She enjoyed going to beano, doing crafts, and going to craft fairs. Also, with her husband, she traveled to Canada a few times a year, and she loved to dance on Saturday nights.
She had 2 daughters, Doris Coulombe and her companion Andrew Dube, and Linda and her Husband Tim Tipton of Lewiston; 7 grandchildren Melissa Lalumiere and her husband Scott, Scott Coulombe and his companion Kandice Poirier, Ryan Coulombe and his wife Alyssa, Derek Coulombe and his wife Jessica, Amy Melvin and her husband Tim, Chad Tipton and his companion Jamie Hammond, and Sean Tipton and his wife Tanya.
She also leaves behind 13 great grandchildren, Jack and Julia Beauchesne, Isabella, Trey, Stanley, Mae, Benjamin, Madeline and William Coulombe, Taylor and Hayley Melvin, Braydon and Kalin Tipton; one sister, Theresa of California; and many nieces.
She was predeceased by 3 brothers Maurice, Reginald and Bertrand Sirois, and 7 sisters, Lucille and Annete Sirois, and Germaine, Carmella, Venis, Gloria, and Cecile DeGruttla.
Services will be held on Thursday, October 12th, 2017 at Funeral Alternatives, 25 Tampa St. Lewiston, Maine. A memorial visitation will be held at 10am, followed immediately by a memorial service at 11am. Angelina will be buried with her husband, Romeo at the Maine Veteran's Cemetery at a later date.
No flowers are requested.