« Obituaries | Benjamin Blais
Benjamin Blais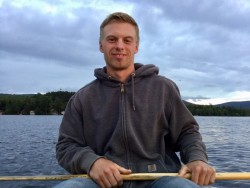 Date of Death: February 14, 2018
Date of Birth: December 31, 1991
Biography:
MINOT-Benjamin M. Blais, 26, of Minot passed away on February 14th, 2018. A beautiful soul, gone too soon.
He was born in Lewiston, Maine on December 31st, 1991 to parents Michael Blais and Jamie (James) Anderson.
He was a member of the Maine Appalachian Trail Club, and also the Maine Organic Farmers and Gardeners Association. He was a Southbound Thru- Hiker, hiking the trail in only 4 months, 10 days. His trail family knew him by his trail name, "Quickstep".
He attended Hebron Academy, graduating in 2010. Following his thru-Hike he attended SUNY and UMO, graduating with a Bachelor's Degree in Environmental Science
Ben worked with his father as a foundryman at the Auburn Stove Foundry. He also worked as a farmer for 3 seasons at the Root 5 Farm in Fairlee, VT.
Ben loved nature, and being outdoors. He enjoyed hiking, kayaking, farming and gardening. He loved to cook the things he grew. Ben also loved writing and music, and was a self-taught guitarist, as well as an avid hockey player and skater. He especially enjoyed spending time with his family, friends, and his cat, Marcus. He'll be remembered as an all-around good guy who enjoyed going on adventures.
Ben was predeceased by his maternal grandparents, Marie and Harold James; great grandparents Louis and Elizabeth Blais; and a sister-in-law, Kerri Anderson.
He will continue to be missed and loved by his Father Michael Blais (New Gloucester) and his friend Leigh Sullivan (Windham); his mother Jamie Anderson and her husband John (Minot); Brothers, John Anderson III (Gorham), and Jack Anderson (Minot); grandfather Louis Blais and his wife Irene (Poland Spring); grandmother Barbara Tisdale (Auburn); his girlfriend Cristina Pellegrini (Minot); his trail family, and trail partner, Brian Mick "Ghost Pirate"; numerous aunts, uncles, cousins and friends; and his beloved cat, Marcus.
A celebration of life will be held at 1pm on Monday February 19th, 2018 at the Hebron Community Baptist Church, 45 station rd. Hebron, Maine. A reception will follow the service at the church. In lieu of flowers, donations may be made in memory of Ben to the Maine Appalachian Trail Club https://donatenow.networkforgood.org/SupportMATC.