« Obituaries | Marsha R. Blackman
Marsha R. Blackman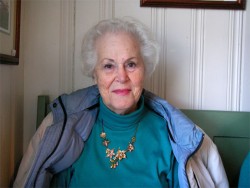 Date of Death: February 27, 2015
Date of Birth: April 27, 1921
Biography:
BRUNSWICK -- Marsha Rickless Blackman, beloved mother and grandmother, passed away peacefully on February 27, 2015, two months shy of her 94th birthday at Sunnybrook Village, Brunswick, Maine. She was born April 27, 1921, the daughter of David and Lena Chidnofsky Rickless of Haverhill, Massachusetts.
She graduated from Haverhill High School in 1939 and married Maurice Blackman of Lynn, MA in 1943. During their 58 year marriage they lived in Haverhill and Andover MA, Thousand Oaks and Westlake Village, CA before moving to Yarmouth ME in 1988.
After her husband's death in 2001, Marsha moved to Sunnybrook Village, Brunswick, ME where she became an active member of the Sunnybrook community, often serving as a mentor, welcoming newer residents and easing their transition to a new style of living.

Marsha loved travel and playing bridge, and spending time with her family and friends.

Marsha is survived by her two daughters, Wendy Sirois, and her husband William, of Brunswick Maine and Kathy Herder of Boulder Colorado and her granddaughter, Jenelle Sandy, and her husband Rob,of Chicago Illinois. She is also survived by some nieces, nephews and grand nieces and nephews.

She was predeceased by her sister Anne Shain in September 2014.

Marsha was a beautiful soul, wonderful mother, grandmother and wife. She spoke her mind, lived what she believed, and had a beautiful life full of love. She was determined to right wrongs wherever she saw them, and broke ground in the 1950's in the Massachusetts education system for children with disabilities.

She will be terribly missed. Her drive, kind heart and spirit will live on through her family and everyone she touched.

A graveside service will take place in the spring at New Meadows Cemetery at a date to be determined. Memorial donations in lieu of flowers may be made to Friends of Sunnybrook, Sunnybrook Village, 340 Bath Rd, Brunswick, Maine 04011.