« Obituaries | Michael "Mike" Bizier
Michael "Mike" Bizier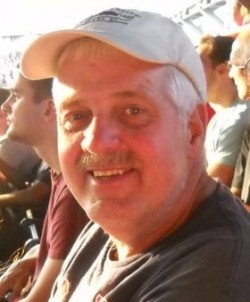 Date of Death: August 19, 2018
Date of Birth: October 14, 1950
Biography:
Brunswick-Michael "Mike" Bizier, 67, passed away after a long neurological illness on Sunday, August 19th, 2018. He was surrounded by his family.

He was born on October 14, 1950 in Waterville, the son of Wallace and Yvette Bizier.
After graduating from Waterville High School in the Class of 1969, he attended EMVTI and began work as a carpenter and millwright for Local Union 1996.

An avid lover of the outdoors, he enjoyed fly fishing, cutting his own firewood, gardening, and took pride in everything he built, including his family's home in Winslow. He was a member of Trout Unlimited and loved tying his own flies and spending time fishing all over the state of Maine, especially at the family camp in Rangeley. He was a passionate New England sports fan and spent many evenings cheering on the Red Sox, Patriots, Bruins and Celtics.

He was a devoted father, grandfather, and husband who loved cheering on his kids at sporting events and spending time with his three grandchildren.

He is survived by his wife Evelyn "Cricket" Bizier, Son Nick Bizier, Daughter Katy Bizier, Daughter Jen Kellerman, Daughter in-law Briana Bizier, Son in-law Jon Kellerman, grandchildren Sage, Ian, and Isaac, Brother Paul Bizier and spouse Linda, Brother in-law Brian McCowan and spouse Patsy, Brother in-law Bob McCowan and spouse Laurie, and Sister in-law Sue McCowan and spouse Guy Johnson, as well as many nieces. He is also survived by his faithful dog Nessie.

A celebration of life will be held this fall and the family will be in touch with those who would like to attend.

Donations in Mike's name may be made to Kennebec Valley Chapter of Trout Unlimited (c/o Mike Holt, 20 Osborne Street, Fairfield, ME 04937) or the Red Sox Foundation. The family thanks the staff of CHANS Home Health & Hospice and Hill House for their thoughtful care at the end of his life.