« Obituaries | Sherri Bisson
Sherri Bisson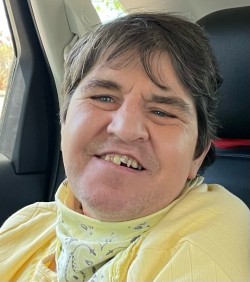 Date of Death: November 2, 2022
Date of Birth: December 5, 1967
Biography:
Scarborough - Sherri Bisson passed away on November 2, 2022. She was born on December 5, 1967 and was 54 years of age. Sherri was born to Roger and Carol Bisson with numerous obstacles that hindered her developmentally and physically. Multiple handicaps did not hold her back, however. The Dr. said she wouldn't live past ten and she lived to be 54. They said she'd never walk and she ran. They said she'd never learn to speak, but she swore like a sailor.  
Sherri brought light and cheer to all who took the time to get to know her. She loved Big Bird and was known to have a passion for mashed potatoes.  
Sherri was pre-deceased by her mother Carol and her Father Roger.
Sherri leaves behind her brother, Scott Bisson and his husband Dan Bisson.  
Her passing leaves a hole that can't be filled. She was the one and only Sherri. She was loved. She is sorely missed.