« Obituaries | Lorraine G. Bilodeau
Lorraine G. Bilodeau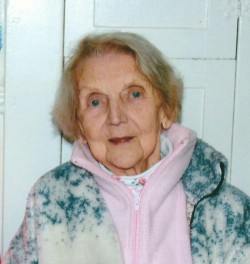 Date of Death: July 30, 2018
Date of Birth: April 20, 1931
Biography:
Lorraine G. Bilodeau (Jean), 87 of Augusta died at Maine General Hospital on July 30, 2018.
Lorraine was born in Augusta on April 20th, 1931, the daughter of Alphonse & Marie-Ange Jean (Grenier), the only daughter of six children. Lorraine worked for Statler Tissue, the Civic Center, Regal Cinemas, and the Red Barn among other jobs. She couldn't wait to raise children of her own, giving birth to eleven children with her husband Roger.
Lorraine was a member of Cushnoc Senior Citizens and was an avid giver to such organizations as the Love Fund, Jimmy Fund, Shriners, and others. She would also collect numerous things for school children, hospital patients, and anyone in need. In 1984 Lorraine received the Outstanding Citizens Award from the Chamber of Commerce.
She loved to cook and would often have the entire family over for Sunday dinners and feed everyone in shifts. She would also make her famous peanut butter fudge at the drop of a hat for anyone. Lorraine also loved to go to the casino and could play the slot machines for hours.
Lorraine is predeceased by: her husband Roger Bilodeau of 54 years, two sons Brian and Daniel Bilodeau.  Her parents Alphonse & Marie-Ange Jean (Grenier).  Brothers Ralph, Alcide, Patrick and Raymond Jean.
Surviving are nine of her children: Donna Bilodeau of Sidney, Patricia Knight of Arizona, Theresa Saucier and husband Robert of South Gardiner, Debra Bilodeau (her favorite) of Augusta, William Bilodeau of Windsor, Roxanne Diplock, Andrew Bilodeau, Barbara Bilodeau, Alphonse Bilodeau and wife Tina  all of Augusta.
Lorraine is survived by her Grandchildren whom she loved very much: Jason Saucier and wife Gail Minichiello of Gorham, Robbie Saucier of South Gardiner, Kimberly & Danny Knight of Arizona, Sara Harkness of Augusta, Lisa Diplock of Windsor, Hank Diplock of Waterville, Emily Bilodeau, Charles Taylor, Christopher Bilodeau, Alyssa Bilodeau all of Augusta, and Devin Senter of Standish, and several great grandchildren, nieces and nephews.
She is also survived by her brother/best friend: Roger Jean of Augusta.
In lieu of flowers donations can be made to The Love Fund, 125 Community Drive, Ste 201, Augusta, ME 04330.
There will be no visiting hours at her request.  A mass will be held at St. Augustine's Church at 11:00 a.m. on Tuesday, August 7, 2018.  Following the mass the burial takes place at Holy Family Cemetery, Townsend Road, Augusta, ME.  A gathering of family and friends will follow at the Eagles Club on Water Street, Augusta, ME to celebrate her life.