« Obituaries | Michael (Mikei) J. Biker Jr.
Michael (Mikei) J. Biker Jr.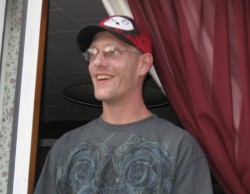 Date of Death: April 6, 2013
Date of Birth: April 22, 1978
Biography:
Biker Jr, Michael (Mikei) J – Michael "Mikei" Biker 34 of Lewiston passed away unexpectedly on April 6th at his home, of heart complications. Mikei was born April 22, 1978 in Lewiston. He was the son of Mike Biker, Sr. of Lewiston and Melodye Brousseau and her companion Harry of Lewiston and his step-father Garry Brousseau of Auburn. Mike is survived by his companion of 10 years Sarah Lanois, and their children, Ethan age10, Brenden age 7 and Averie age 3.

Mike was a caring, loving, and great friend to his family and friends, but an adoring father to his children.
We will sadly miss Mike and his sense of humor, but we are grateful for the time that we had him in our lives. Family gatherings will not be the same without him, but we take comfort to know that he leaves us with Sarah and the children to continue to enrich our lives.

Mike is survived by his companion Sarah and their children , his parents and brothers Chad and Robert Brousseau, his grandparents Ralph and Constance Spencer of Carthage, his uncles Ralph and wife Diane Spencer of Sabattus, Carleton and his wife Kelly Spencer of Lewiston, his aunt Brenda Giasson and companion Tim Donahue of Lewiston,his best friend and very close cousin Cody Spencer of Greene, Aunts Jennifer and husband William Biker , Gloria and husband Steve Thomas of Bath, Rita Cote of Poland, Linda Williams of Auburn, Pat and husband Mark Baril of Auburn , Pam and husband Richard Keene of Canton and his uncles Dana Brousseau of Greene, James and wife Cindy Brousseau of Poland, and many other cousins.

He was also predeceased by his paternal grandparents Adolph and Blanche Biker, his maternal grandmother Virginia Spencer, his aunt Carol Berube, and his uncle James Biker.
Mikei will forever live in our hearts.

A memorial service will be held at 10:00am on April 16th, 2013 at High Street Congregational Church in Auburn Me.