« Obituaries | Robert Henry Berube
Robert Henry Berube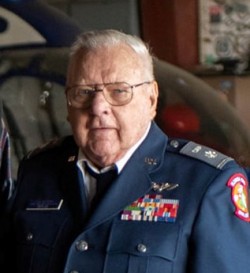 Date of Death: November 27, 2021
Date of Birth: May 23, 1930
Biography:
Robert Henry Berube SSGT USAF Retired, of Auburn passed away on November 27th, 2021 at St. Mary's Hospital after a brief illness. He was born on May 23rd, 1930 to parents Charles Eugene, and MaryAnna (LeChance) Berube.

Robert was a member of Tranquil Lodge #29 AF & AM, the Kora Shrine, the Civil Air Patrol, Past Patron of Madonna #144 OES, the VFW, Florida Gators, KEMS, and the American Legion.

He enjoyed camping, going on cruises, building model airplanes and boats. He was a carpenter and pilot, and enjoyed remodeling houses, and flying. He also enjoyed listening to classical music.
Robert served in the US Airforce and was a Korean War Veteran. After his retirement from the military he worked for the FAA as an electronics technician. He also worked for Disney as a costume specialist for EPCOT. He was a Lt. Colonel CAP Commander, and worked in search and rescue for over 50 years. He also worked as an electrician.

He was predeceased by both parents; and his wife, Elise.

Surviving him are his sister, Vivian Morissette (Augusta); brother Charles and his wife Solange (Auburn); 2 children, Dale (Auburn), and Nancy and her husband Shane Staples (Waterboro); 7 grandchildren, James, Cyra, Sarah, Dakota, Henry, Crystal, and Ryan; eight great grandchildren; and his nieces and nephews.

A celebration of life will be held graveside at Gracelawn Memorial Park, on May 23rd, 2022 at 3pm.

In lieu of flowers donations may be made to Honor Flight Maine, PO Box 1770 Portland Maine 04104-1770, or to Sanford #7 IORG 492 West Road, Waterboro, ME 04087.