« Obituaries | Barbara A. Berry-Palm
Barbara A. Berry-Palm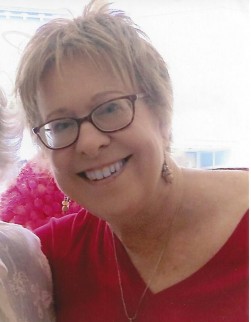 Date of Death: September 21, 2015
Date of Birth: March 10, 1955
Biography:
BATH - Barbara Berry-Palm was born in Exeter, New Hampshire on March 10th 1955. Her courageous five-year battle with breast cancer ended on September 21st 2015 when her Lord called her to her forever home with Him, thus ending once and for all her struggles and sorrows. She was surrounded by loving family and friends at her home in Bath, Maine. Barbara was not afraid to be called heavenward, but she was sad to leave behind the many people she loved and was loved by, who will miss her winsome smile and encouraging spirit very very much.
Barbara was an art teacher at Brunswick Jr. High for the past 12 years. She was passionate about getting her students to explore the artist within themselves and empowering them to make their own artistic choices. Barbara's heart was large enough to love each and every one of her many students. And they, in turn, cherished their beloved teacher. In addition to teaching art, Barbara was an active participant in the local arts community; including many art shows, and charity and other events through the years.
Barbara was also a member of the North Woolwich Methodist Church, in Woolwich ME., where she participated in the children's ministry and volunteered in the nursery.
She seemed to lead a magical life at times, including such stories as surviving a mother bear sitting on her tent in Yosemite, surviving a close call with a tornado as a camp counselor in Delaware, with many other memorable stories and events. She was part Mary Poppins and part Maria Von Trapp, playing the role of a magical nanny or auntie to many a child through the years. Her indomitable spirit and unquenchable Faith were an inspiration to all whose lives she had the privilege of sharing.
Barbara is survived by her husband Edward Palm, son Richie, father William Berry (wife Bea) of Staunton, VA., mother Faye Berry of Newark, DE, brother Keith Berry (wife Susan, son Adam) of Manchester, CT, Charlie Berry of Frederick, MD, sister Donna Summers (husband William, son Wesley) of Garrison, NY; and close friends Tacie and Kevin of Elkton, MD (with their three sons and their spouses and children). Barbara had many caring friends spread far and wide - who mourn her passing.
Her family thanks you all for your friendship and love for Barbara.
A 'Celebration of Life' will be held on Saturday, October 31st at 11:00 at the North Woolwich Methodist Church 941 River Road, Woolwich, ME 04579. A reception will follow at 2:00 (the location to be announced in coming weeks).