« Obituaries | Andrew Bunker Berry
Andrew Bunker Berry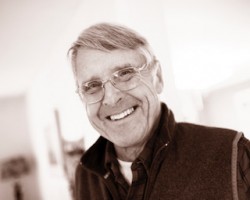 Date of Death: July 29, 2022
Date of Birth: September 4, 1939
Biography:
Andrew Bunker Berry, 82, of Whitefield, Maine passed peacefully on Friday, July 29, 2022.
Andrew was born in Malden, Massachusetts on Sept. 4, 1939, the son of Katherine Pew and Richard Berry. He grew up in Cape Elizabeth, Maine, graduated from Hebron Academy and went on to earn his Bachelors in Economics at Cornell University.
Andrew was most known throughout Maine and the local community as the long-time owner of Maine Helicopters, Inc. where he worked on many agricultural, tower and construction projects throughout the State. He served on the Board of Pesticides, and locally, the Whitefield Appeals Board. He was also a member of The Whitefield Historical Society.
"Andy" had friends in every corner of Maine. Doors were always open to him for a cup of coffee, a meal, or libation. His quick wit, smile and charm won him many lifelong friends.
It was no secret that Andrew's greatest passion was pleasure boating on the Maine coast. This passion for being on the water coupled with his love for traditional Maine working boats landed him right in the middle of the lobster community. He not only enjoyed using a lobster boat design for his own boat, but he and his boat of the moment were well known at the Maine Lobster Boat Races. He served on the Lobster Boat Race committee and often was the acting "committee boat". When his duties as committee boat captain were done, he could be found right in the middle of a raft of race boats and other fans celebrating the weekend's events. 
Andrew passed on his love of the water to his daughter and son. Some of his children's greatest memories of him were cruising Penobscot Bay and beyond. His son and son's wife spent many weekends visiting friends on the islands, watching the races and enjoying social time after the races. His daughter and husband, along with their two kids would enjoy swimming, beach combing, clamming and exploring while aboard "Grampy Andrew's" boat. Throughout the years, he would tie up to his brother Ted's boat, at any given Maine cove. If it worked out that all of the families could be there together, it was not only a magical moment to remember, but one of Andrew's greatest joys.
Once retired, he and his wonderful girlfriend Jenn enjoyed a flotilla of other passionate boaters, where they would cross the Bay of Fundy and ultimately rendezvous in St. Johns, New Brunswick/Nova Scotia. In later years, Andrew did not sail as far as he used to, but the couple enjoyed quieter times at Long Cove in Vinalhaven with other boaters and friends on the island.
Though boating was his main passion, he had many hobbies and favorite places. He enjoyed time spent at the family camp on Eustis Ridge, wintered at Tybee Island and Belize. As for hobbies, he made his own maple syrup, took wood-turning classes, sketched, cooked and liked to throw a good party.
Most memorable were his gatherings with family and a few lucky friends. He loved a good potluck and always enjoyed a glass of homemade liqueur made by his youngest brother Tom. At a certain hour, you could be sure that the furniture would be pushed aside and there would be dancing to his favorite band, "The Chambers Brothers".
Andrew was predeceased by his parents, and beloved grandson, Connor McLean, and is survived by his children Jon Berry and wife Jessica Moreau-Berry; Elizabeth Berry MacKenney and husband Scott MacKenney; granddaughter Madeline McLean; siblings Ted Berry and Thomas Berry; and girlfriend Jennifer Paul.
Andrew's children would like to extend an extra special thanks to Brenda and Mahlon Lincoln, and the Maine Helicopters crew for all of their help and love in difficult times. And to the love of his life, Jenn, who never left his side, and therefore, never left ours.
There will be a gathering and celebration of his life this Fall in Whitefield, date to be announced soon.
In the meantime, please raise a glass, "Fair winds and following seas" Cap.